Gay Provincetown: The Latest
An increase in hate crimes, emboldened white supremacists and political upheaval have prompted TV and film makers to revisit Nazism.
A late University of Michigan doctor accused of sexual abuse by multiple former patients wrote letters certifying students were gay so they could avoid military service during the Vietnam War in exchange for sexual contact, a former student said.
Authorities are investigating whether deputies shared graphic photos of the helicopter crash scene where Kobe Bryant, his 13-year-old daughter and seven others were killed, according to a newspaper report.
With an all-star cast, "Dispatches from Elsewhere," a new quirky anthology series starring and created by Jason Segel that's debuting Sunday on AMC, is admirable and ambitious but fails to fully connect.
Disney and Pixar's upcoming film "Onward" is making headlines for including the company's first openly gay animated character but The Moscow Times reports that Russian audiences won't see the character.
YouTube celeb and singer-songwriter Ricky Dillon has realized that he's not asexual. Rather, the singer-songwriter announce din a Feb. 26 video, "I am gay!"
Lady Gaga is embarking on a new era...in a galaxy far, far away.
A Texas teacher who was suspended after showing students a photo of herself and her fiancee has won her legal battle — plus a $100,000 settlement and new protections for LGBTQ educators and students.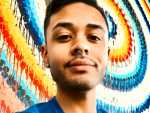 A suspect in the stabbing death of a 23-year-old bisexual man was released by Chicago police after claiming he acted in self defense. Witnesses heard him threaten the victim inside a bar.
Actor Connor Jessup, who currently stars in Netflix's "Locke & Key" series, is opening up about his new relationship with "13 Reasons Why" actor Miles Heizer not long after the couple went Instagram official.
Selected guests started to leave a locked-down Canary Islands hotel Friday after undergoing screening for the virus that has spread from China to most corners of the world.
Provincetown, MA
The Trinity Repertory Company offer a splendid, two hour distillation of Dickens' epic novel.
If you want a fresh look at an old-school musical with a fabulous heroine, in a fun and colorful production, don't miss the boat — catch "The Unsinkable Molly Brown" before it's too late.
Four years ago, candidate Donald Trump didn't bother attending the annual Conservative Political Action Conference. This year, bedrock conservatives are working on how to sell Trump's brand of Republicanism beyond the party faithful.
A federal report due Friday is expected to address the feasibility of removing four hydroelectric dams on a major Pacific Northwest river in a last-ditch effort to save more than a dozen species of salmon.
The ideal began to get real on Tuesday, as seven of the top contenders for the Democratic presidential nomination sparred over the price tag on health care reform and even revealed similarities on issues like marijuana legalization.
The U.S. government's highway safety agency has ordered an autonomous shuttle company to stop carrying passengers in 16 U.S. cities after a mysterious braking problem occurred in Columbus, Ohio.
No matter where you're headed, pack smart and fashionable with our top ten picks of the season, featuring swim trunks, skincare and accessories to look your best on the ultimate spring break vacation.
A cruise ship heading to the Dominican Republic to disembark hundreds of passengers was searching for a new port on Friday after being turned away by officials worried that eight of those aboard showed signs of possible coronavirus infection.
Campaigners won a court ruling Thursday to block the plan for a third runway at Heathrow Airport on environmental grounds, setting the stage for a new fight over whether to make Europe's biggest airport even bigger.
Provincetown, MA
For this special, once-a-year benefit, the New England Center for Circus Arts invites NECCA alumni and professional performers from around the world to donate their talents to raise money for NECCA's outreach and scholarship programs.
Jake Resnicow has transformed LGBTQ nightlife over the past decade with his spectacular events, including a landmark event at last year's NYC Pride. Now he wants you to join him at ZeroSpace monthly for what he calls a 5-D experience.