Gay Provincetown: The Latest
Provincetown, MA
Paula Plum, a founding member of Actors' Shakespeare Project, takes the reigns for ASP's first co-production with Lyric Stage: Shakespeare's timeless comedy of love and confusion, "Twelfth Night." EDGE finds out all about it!
A transgender student says his Georgia high school removed him from this year's prom king ballot.
Donny and Marie Osmond say they will end their Las Vegas show later this year, concluding an 11-year run on the Strip.
"Game of Thrones" actress Emilia Clarke revealed Thursday that she has had two life-threatening aneurysms, and two brain surgeries, since the show began.
Every year, hundreds of pregnant Russian women travel to the United States to give birth so that their child can acquire all the privileges of American citizenship.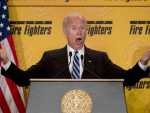 Joe Biden says he has "the most progressive record" of any Democrat running, or mulling a run, in 2020. But many progressive activists disagree.
R. Kelly yelled through tears in a TV interview before an audience numbering in the millions, saying he's in a fight for his life to disprove sexual abuse charges. That fight will ultimately be waged in court, with an audience numbering just 12 jurors.
President Donald Trump is intensifying his efforts to discredit a highly anticipated report on the special counsel's Russia investigation.
By the time California's presidential primary election arrived in 2016, Bernie Sanders was a beaten man. This time around, everything has changed.
Swedish Electro Pop duo Icona Pop, whose breakout hit "I Love It" (featuring Charli XCX) topped charts around the world in 2013, will perform as the headlining act at Miami Beach Pride.
Truly Fabu won Miss Gay New York America and Pattaya Hart won first alternate. They are both now qualified to compete this coming October for the title of Miss Gay America 2020.
An exhibition of art about Michael Jackson is opening in Germany amid fresh controversy over the singer's alleged abuse of children.
Provincetown, MA
Lauren Yee's new play "The Song of Summer" centers around a pop singer's quest for the truth, and maybe a resolution of what happened so many years ago. Trust me, it's fun to find out what happens.
David Letterman says he stuck around on network television about 10 years too long.
Authorities in China and Myanmar are failing to stop the brutal trafficking of young women, often teenagers, from the conflict-ridden Kachin region for sexual slavery, according to a report by Human Rights Watch.
South Korean police said Thursday they've arrested four people on suspicion of secretly taking videos of about 1,600 guests in hotel rooms and posting or streaming them on the internet.
If you're hoping to reduce household food waste, experts say there are two key things to do: Eat what you have, and buy only what you need.
Carvana (NYSE: CVNA), a leading e-commerce platform for buying and selling used cars, unveiled its newest Car Vending Machine today in Pittsburgh.
Rosa Ferrigno's new suit takes recycling to an extreme — she knitted it from more than 300 plastic grocery bags.
Medicines proven to treat opioid addiction remain vastly underused in the U.S., the nation's top medical advisers said earlier this week.

Located northeast of Quebec City along the St. Lawrence River, the Charlevoix Flavor Trail features more than four dozen local growers, producers and restaurateurs in an area known as a rural vacation spot for the wealthy in the early 20th century.
Saturday night, the Washington Heights neighborhood held their new weekly LGBT all-inclusive party with pop, urban and Latin mix beats by DJ Nesto who kept the crowd dancing all night long.