After the death last July of 26-year-old Daniel Fuller in Devils Lake, North Dakota, investigators described the video to his grieving relatives. But for days, weeks and then months, they refused to release it to the family or the public.
An acquaintance of R. Kelly's recalled how the singer once lugged a duffel bag everywhere — to recording studios, film sets and gyms. Stuffed inside, she said, was a collection of his homemade VHS sex tapes.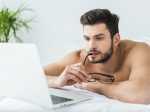 SCRUFF, the gay, bi, trans and queer social networking and dating app with over 15 million users, has launched Hosting, a live-streaming game show where SCRUFF members compete for a cash prize by answering LGBTQ trivia.
The company that owns dating apps MeetMe, LOVOO, Skout, and Tagged has now snapped up gay bear hookup app Growlr, reportedly paying just shy of $12 million for the acquisition.
The Saudi government app Absher is mostly a way for people to complete administrative tasks electronically. But one feature isn't sitting well with civil-rights advocates: the ability for men to grant or deny a woman permission to travel.
The inventor of the World Wide Web knows his revolutionary innovation is coming of age, and doesn't always like what he sees: State-sponsored hacking, online harassment, hate speech and misinformation among the ills of its "digital adolescence."
President Donald Trump says he didn't slip up when he referred to Apple CEO Tim Cook as "Tim Apple" at a White House meeting.
Facebook so far isn't elaborating much on Zuckerberg's manifesto. Here's a guide to what we know at the moment about its plans.
After building a social network that turned into a surveillance system, Facebook CEO Mark Zuckerberg says he's shifting his company's focus to messaging services designed to serve as fortresses of privacy.
Many of Amazon's Seattle-area employees would be exempt from new labor protections in a bill passed by the state Senate after lobbyists for the tech giant pushed to change a key threshold in the rules.