President Donald Trump told attendees at the annual National Prayer Breakfast on Thursday that he stands behind them, even as speakers bemoaned the level of division in the country and what one described as a "fracturing of the American family."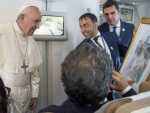 Pope Francis publicly acknowledged the scandal of priests and bishops sexually abusing nuns and vowed to do more to fight the problem, the latest sign that there is no end in sight to the Catholic Church's abuse crisis.
For their supporters, the thousands of Christian schools across America are literally a blessing — a place where children can learn in accordance with biblical teachings, untainted by the secular norms of public schools.
The Vatican's women's magazine is denouncing the sexual abuse of nuns by priests — and the resulting "scandal" of religious sisters having abortions or giving birth to children who are then not recognized by their fathers.
The cardinal who leads the U.S. Conference of Catholic Bishops allowed a priest to celebrate Mass the same day his name was among those released on a list of clergy credibly accused of sexual abuse.
Young people challenged Pope Francis on the Catholic Church's sex abuse scandal and the plight of Christians in the Middle East as the youth took center stage Saturday in the final events of World Youth Day in Panama.
Pope Francis sought Saturday to inspire Panama's priests and religious sisters, acknowledging they have grown weary from the "wounds of the church's own sin," but urging them to find again the joy that sparked their vocations.
The Mormon church said Thursday it doesn't oppose hate-crimes legislation in Utah that includes protections for LGBT people, an announcement that could break a longtime legislative logjam on the issue.
The shelter is readying for a high-profile visit Sunday by Pope Francis, who is coming to offer spiritual succor to the 10 men and five women currently in its care.
Ernest Angley, a notoriously anti-LGBTQ televangelist, can be heard discussing a sexual encounter with another man on recently released audio recordings made two decades ago, multiple media outlets report.