Troquet Honors Bastille Day this Weekend with Special Menu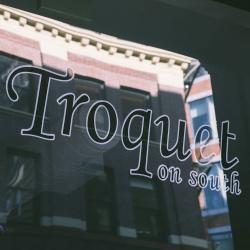 Troquet on South, Boston's destination for modern French cuisine, is inviting guests to celebrate Bastille Day on Friday, July 12th and Saturday, July 13th, 2019. The holiday, known in France as la Fete nationale, is the anniversary of Storming of the Bastille, an attack on a military fortress designed to protect the eastern entrance to Paris by revolutionists during the French Revolution. Declared as one of the biggest turning points in French history, it has become a public holiday commemorated nationwide in France, and now Boston.
Guests can partake in a special prix-fixe menu that begins as any celebratory dinner should: with a refreshing Sparkling Wine. This is followed by an option of Beef Tartare or a Duck Confit Salad, with Steak Frites or Bouillabaisse as an entree. The meal will end on a sweet note, with either a Crème Brulee or a Warm Chocolate Cake. A wine pairing option is available for only $10.00 more, as well as the regular menu. Reservations can be made by calling 617-695-9463 or through OpenTable. For more information, please visit: www.troquetboston.com.
The Bastile Day menu is available on Friday, July 12, 2019 — Saturday, July 13, 2019 | 5:00pm — 10:00pm at Troquet on South, 107 South Street, Boston, MA.
The cost is $39.00 Per Person for Prix-Fixe Menu | $49.00 With Wine Pairing .
To make a reservation, please call 617-695-9463 or book through OpenTable.
MENU:
Celebratory Sparkling Wine
First Course
Duck Confit Salad or Beef Tartare
Second Course
Steak Frites or Bouillabaisse
Dessert
Crème Brûlée or Warm Chocolate Cake
With an award-winning wine list featuring over 50 wines by the glass, contemporary cocktails, and serving some of Boston's best Modern French Cuisine, Troquet on South is the perfect location for leisure and business dining. Troquet on South is available for lunch, dinner, and private dining. Troquet on South is located at 107 South Street, Boston, MA 02111.
For more information please visit: the Troquet on South website.
Comments on Facebook