Boston Pizza Fest Takes Over City Hall Plaza this Weekend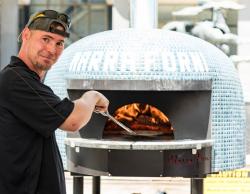 The Boston Pizza Festival is back for its third year at City Hall Plaza in Boston's government center. The largest consumer pizza event in New England will take place on Saturday, July 13th and Sunday, July 14th from noon — 8 p.m.

The Boston Pizza Festival will feature over 30 of the best pizzerias in the North East and even as far as Naples, Italy along with beer provided by Anheuser-Busch and wine from Villa Pozzi. The pizzerias will be crafting their pies using dough from The Dough Connection of Woburn, MA and oil from Catania Oils of Ayer, MA. The two-day celebration will also showcase pizza acrobatics performed by the Jersey Pizza Boys, a children's pizza tossing station, pizza making demonstrations by world famous pizza makers and live music and entertainment.

"We have an impressive roster of pizzerias representing the best Boston has to offer, along with some Raffaele and I handpicked coming to us straight from Italy," said Giancarlo Natale, co-director of Boston Pizza Festival. "If ticket sales keep up at this rate, we will break last year's attendance record and have our biggest and best Boston Pizza Festival to-date."

General admission tickets are available for $15 each with fresh slices starting at $2 per slice. A VIP ticket option is also available for $50 and allows early access into the festival, unlimited free pizza for the first hour (11 a.m. — 12 noon) before opening to the general public, and a VIP gift bag featuring gift cards and items from participating pizzerias, sponsors and vendors. If Saturday ticket purchases go unused, they are redeemable for Sunday's event instead.

"There's a lot of planning and preparation over the next few weeks to ensure everyone has a great experience festival weekend and has access to pizzerias they've been anxious with as short of lines as possible," said co-director, Raffaele Scalzi. "We know the hard work is paid off when Giancarlo and I get a chance to walk the festival grounds, seeing and hearing the genuine happiness of families and children as they experience everything the Boston Pizza Festival has to offer."

Participating pizzerias include:

Sal's Pizza — Boston
The White Bull Tavern — Boston
Bertucci's — Boston
1000 Degrees Pizzeria — Boston
Florina Pizzeria — Boston
Le 5 Stagioni Sponsored Booth (GF)
Carmine's Pizza Factory — New Jersey
Parziale's — Boston's North End
Caffe Quattro — Boston
Langiella Pizzeria — Naples, Italy
Bricco — Boston's North End
Starita e Materdei — Naples, Italy
Pasquale's Pizzaeria — S. Kingstown, RI
Midici — Somerville
Upper Crust Pizzeria — Boston
Kelley Square Pub — East Boston
Pasta Beach — Boston
Famiglia Fornaciari Pizzeria — Saugus
Anzio's Brick Oven Pizza — Grafton, MA
Regina Pizzeria — Boston's North End
Rina's Pizzeria — Boston's North End

For more information and tickets, visit the event's website.
Comments on Facebook