1 thru 10 of 1217 Stories
A federal judge in California ruled Thursday that a twin son of a gay married couple has been an American citizen since birth, handing a defeat to the U.S. government, which had only granted the status to his brother.
Sen. Elizabeth Warren is planning to unveil a universal child care plan that would guarantee American families access to child care.
Recovery Unplugged's Chief Strategy Officer Paul Pellinger shares why the power of music is so impactful in alcohol and drug treatment and rehabilitation.
The children of same-sex couples have been shown time and again to thrive just as well as their peers with mixed-gender parents. But a new and more comprehensive study now shows that kids with same-sex parents do markedly better at school.
A gay porn star is opening up in an emotional video in which he details sexual abuse he was subjected to by his own father.
A New York City gay couple is being featured in the New York Post for their treatment of a plastic doll, which they consider to be like their own child.
While most parents plan to help with at least some college expenses, more are coming around to the point of view that they shouldn't sacrifice their own financial well-being to do so.
Overdoses now kill more each year than guns or breast cancer or AIDS at its peak. They kill more than the entire Vietnam War. They kill nearly 200 people a day on average, the equivalent of a 9/11 every few weeks.
Landon Biggers became one of 70,237 Americans dead from overdose in 2017. The death count from opioids alone has climbed higher than 400,000 lives as the epidemic enters its third decade.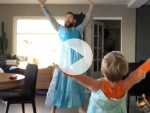 A Norwegian father did what any father should do when he realized his four-year-old son loved the movie "Frozen": He got a couple of "Elsa" dresses and made a video of himself and his son dancing to one of the songs from the movie.
1 thru 10 of 1217 Stories