Gay Provincetown: The Latest
After dancing around the nature of his controversial comments during the Rolling Loud Festival in Miami, the rapper took to Instagram to share an official statement.
Austin's oldest film festival, aGLIFF (All Genders, Lifestyles, and Identities Film Festival) announces the official program selections for PRISM 34.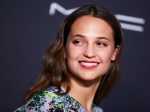 Despite the problematic casting, Oscar-winning actress Alicia Vikander shared that Eddie Redmayne was "wonderful in role" and the film was a "learning experience."
Much of what makes Washington, DC an attractive destination for members of the LGBTQ community to call home also makes it an ideal getaway for LGBTQ travelers — here are some of their favorite picks.
Matt Damon may have the reputation of being a Hollywood nice guy, but how nice would he seem if you overheard a conversation with him and his daughter during which he often dropped the F-word?
Two fathers have brought suit against the NYC school system, claiming that school administrators not only did nothing to stop the homophobic bullying their son endured, they also blamed the child for the attacks he suffered.
A queer athlete, sports enthusiast, and sociologist searches for stories about queer women who earned their livelihood playing sports.
Edgy comedian and longtime LGBTQ ally Kathy Griffin revealed she has been diagnosed with lung cancer and will undergo surgery to remove half of her left lung.
Not long after Lollapalooza pulled the rapper from headlining its event due to his recent anti-gay comments, the Governors Ball has followed suit by dropping DaBaby from its lineup as well.
Out Olympic diver Tom Daley thrilled fans with his gold medal win on July 26. Now, he's thrilling them all over again — this time, for his impressive knitting skills.

Transgender weightlifter Laurel Hubbard made her mark by competing in the women's weightlifting at the Tokyo Olympics, but couldn't complete a lift.
The award-winning musician, producer, DJ, and innovator takes an inspired look at the state of the industry from all sides of the evolution of music and the industry in his new docuseries.
There is a growing national movement — bolstered by tens of billions of dollars in federal rental assistance — to find ways to keep millions of at-risk tenants hurt by the coronavirus pandemic in their homes.
Privacy watchdogs — the human kind — warn that police are secretly rushing to buy the robots without setting safeguards against aggressive, invasive or dehumanizing uses.
The tattered myth that gays are generally better off than their heterosexual peers took another hit with a new study that reconfirms gay and bisexual men earn less than straight men do.
Several companies sell vehicle history reports, promising to reveal the past of any given vehicle. In this article, we'll take a look at the two largest vehicle history report providers.

Celebrity dermatologist Dr. Alex Khadavi was arrested and booked for felony criminal threats. The arrest came as a result of a homophobic rant that Khadavi made in a posh LA condo lobby on July 7.
Dr. Anthony Fauci warned Sunday that more "pain and suffering" is on the horizon as COVID-19 cases climb again and officials plead with unvaccinated Americans to get their shots.
Britain opened its borders to fully vaccinated travelers from the U.S. and European Union on Monday as travel industry leaders urged the government to further ease restrictions.

The idea that sexual desire might be understood as mere preference — like a favorite ice cream flavor — is reductive. "Just a preference" is a familiar and reflexive shield for what experts call racialized sexual discrimination.