Gay Provincetown: The Latest
Rhode Island authorities are investigating the case of a man who died after being handcuffed by police in Providence.
The Justice Department is sending a strong message about its priorities these days.
Singer-songwriter Lloyd Price, an early rock 'n roll star and enduring maverick whose hits included such up-tempo favorites as "Lawdy Miss Clawdy," "Personality" and the semi-forbidden "Stagger Lee," has died. He was 88.
Tawny Kitaen, the sultry red-haired actress who appeared in rock music videos during the heyday of MTV and starred opposite Tom Hanks in the 1984 comedy "Bachelor Party," has died. She was 59.
A shooting at an upscale South Florida shopping mall that began as a fight between two groups of people left three persons injured Saturday afternoon and sent mall patrons fleeing, according to police and local reports.
In "Elizabeth And Monty: The Untold Story Of Their Intimate Friendship," a new book about the relationship between two of the 1950s hottest stars, Charles Casillo claims that Elizabeth Taylor's greatest love was Montgomery Clift.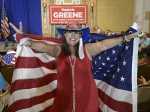 U.S. Reps. Matt Gaetz and Marjorie Taylor Greene, two of the Republican Party's most controversial figures, kicked off their "America First Rally" roadshow Friday with a Trump-centric revival of sorts for the MAGA faithful at a Florida's The Villages.
Break-ups don't get nastier than this. And because of Twitter, one between two popular adult male personalities has become very public.
The state's Republican governor signed House Bill 128 to prevent using sexual orientation or gender identity as cause to harm LGBTQ people.
Lurking beneath Facebook's decision on whether to continue Donald Trump's suspension from its platform has raised a more complex and consequential question.
President Joe Biden insists an unexpected slowdown in companies' hiring is clear new proof the U.S. needs the multitrillion-dollar federal boost he's pushing.
Aubrey Plaza has married her longtime boyfriend, director and screenwriter Jeff Baena.
After nearly three decades in London, Christophe Reech was fed up with the city's pandemic lockdowns. This spring, he sold his luxury townhouse and jetted off to the desert sheikhdom of Dubai to start a new life with his family.
Travel website Tripadvisor has removed an insensitive review of the Auschwitz Museum after initially saying it complied with its submission guidelines.rn
Bruno DiFabio, a celebrity pizza chef who owns restaurants in Connecticut and New York, was sentenced to 30 days in prison Thursday for tax evasion.
Edmunds experts report on five ultra-capable off-roaders that are either already on dealer lots or worth waiting for in the coming months.
Strong sales results from Coach's parent as well as from the maker of Wrangler and Lee jeans offer the latest evidence that shoppers' spending on fashion and accessories is rebounding to pre-pandemic levels.rn

Britain announced a "first tentative step" Friday toward resuming international travel, saying U.K. citizens will be able to travel to countries including Portugal, Iceland and Israel later this month without having to quarantine upon their return.rn
Miami-based Norwegian Cruise Line is threatening to steer clear of Florida after the governor signed legislation banning businesses from requiring that customers show proof of vaccination against COVID-19.rn

Deja Lynn Alvarez announced her candidacy for the 182nd District in Philadelphia. If elected she will be the first out Transgender Latina state official.