Gay Provincetown: The Latest
The CNN anchor shared a photo of his 11-month-old son, Wyatt, adorably watching him on TV while hosting the game show.
British music's leading prize night next month will feature an audience of 4,000 people, in what will be the first major indoor music event in the country to welcome back a live audience since the coronavirus pandemic erupted more than a year ago.
The 200,000-plus LeVar Burton boosters who signed a petition calling for him to be the new "Jeopardy!" host will get to see him try the job on for size.
Not long after a jury convicted former Minneapolis Police Officer Derek Chauvin of killing George Floyd, police chiefs across the U.S. started speaking up. And it wasn't to defend the police.
A rogue industry. A gun to our head. Extortion. That's how infuriated lawmakers described soft drink companies — and what they pulled off when they scored a legislative deal that bars California's cities and counties from imposing taxes on sugary drinks.
like so many health care workers battered by the pandemic, Kari Wegg is searching for footing in a life after COVID. But the scars from a double lung transplant are constant reminders that it takes much more than a shot in the arm to get there.
India reported a global record of more than 314,000 new infections Thursday as a grim coronavirus surge in the world's second-most populous country sends more sick people into a fragile health care system critically short of hospital beds and oxygen.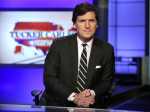 Tucker Carlson's toxicity has gone up a notch (if it can) this week when insights from his college yearbook were revealed. Amongst them was that he identified himself as being part of the "Dan White Society" in his 1991 Trinity College yearbook entry.
Ellen described her run-in with weed to Jimmy Kimmel on 4/20, but made no mention of her recent career woes.
Model and social media personality Kevin Creekman weighed 330 pounds when he turned 18. That was 16 years ago, now he weighs a healthy 152 pounds.
Five associates, with ties to Chechen militia leader Ramzan Kadyrov, are accused of attempting to violently erase LGBTQ people from the Russian republic.
What did Cassie Randolph know and when did she know it? That was a big follow-up question to her ex-boyfriend and "Bachelor" contestant Colton Underwood's coming out last week, and it took a week for her (or someone) to answer it.
Shares of United Airlines tumbled by 8.5% Tuesday after the airline reported a larger first-quarter loss than expected and suggested that key business and international travel won't recover significantly until next year.

YouTube shut down a Nigerian pastor's channel following complaints about videos that showed congregants being assaulted in the name of driving out "demons" that supposedly made them gay.
It can be a painful experience when a lender rejects your loan application. Although you might not know what to do, you can take steps to increase your approval odds for future applications.
The fiery crash of a Tesla near Houston with no one behind the wheel is drawing scrutiny from two federal agencies that could bring new regulation of electronic systems that take on some driving tasks.
Four front-of-house staffers at BrewDog, an Indianapolis brew pub, allege that they were fired for being LGBTQ. The company they used to work for has faced similar controversy before.
The Montana Senate voted Tuesday to indefinitely postpone a bill that would have banned gender affirming surgery for transgender minors, effectively killing the proposal.
There is no stopping flowers when they bloom, blossoms when they burst. Unfortunately, people have been stopped from enjoying them these days.
In certain circles of San Francisco, a case of syphilis can be as common and casual as the flu.