Topics :: Pride
SF Pride may have been canceled but community leaders Juanita Moore! and Alex U. Inn planned a march along the original Pride route followed by a rally and a second march to the Castro to show support for the black and brown members of the LGBTQ Community
The NYC Queer Liberation March for Black Lives and Against Police Brutality, took place on the last Sunday in June traveling from Foley Square to Washington Square Park.
Pride Without Prejudice/Reclaim Pride March kicked off at the Belmont Red Line el station in Chicago. Speakers included Antonio Gutierrez, Russia Brown and Samer Owaida, among others.
It was a beautiful day, and the crowds came out to celebrate Palm Springs Pride, and to support the LGBTQ community.
This year's Come Out With Pride celebration was so huge, that we just had to post part two.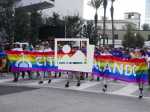 What a beautiful day for a celebration! The crowds came out to show their Pride and to support the LGBTQ community as they enjoyed this year's Come Out With Pride.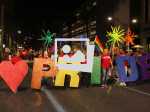 Downtown Las Vegas celebrated its largest Pride yet, with a fabulous nighttime parade and a day and a half of festival fun.
For the fourth year, DTLA Proud brought LGBT Pride to the streets of downtown Los Angeles. The great weather brought people out to dance to the hot beats, support local artists and vendors, and to enjoy some great talent.
Jersey City had a blast celebrating Heritage of Pride at Club Six26. This amazing venue, with two indoor levels and two beautiful rooftops, had people gathering for a great time with friends while listening to the beats from DJ U-F-OSO.
San Diego held its LGBTQ Pride celebration at Balboa Park with four stages and over 100 performers and community activists.