Early studies finding coronavirus could linger on surfaces for days were conducted under laboratory conditions; the virus likely couldn't survive that long in real life.
More than 8.1 million people in the U.S. have turned their iPhones and Android devices into pandemic contact-tracing tools, but it hasn't been of much use when their neighbors, classmates and coworkers aren't on the same system.
With multiple COVID-19 vaccines rapidly heading toward approval, optometrists and dentists are pushing for the authority to immunize patients during routine eye exams and dental cleanings.
Without rigorous independent studies, experts say it's hard to verify claims of "self-cleaning" or "antiviral" surfaces that have popped up during the pandemic.
In most of the country, diners are left in the dark about which restaurants have been linked to outbreaks of the virus.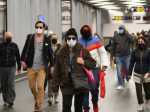 Despite the expected arrival of COVID-19 vaccines in just a few weeks, it could take several months — probably well into 2021 — before things get back to something close to normal in the U.S.
Health experts say outdoor dining tents are generally safer than dining inside, but caution that they're not all equal.
Americans who do choose to fly will be subject to evolving COVID safety policies that vary by airline, a result of the continuing lack of a unified federal strategy.
Some worry a lack of contact with others will weaken their immune system by reducing its active contact with germs.
Lines for free COVID-19 tests stretch for blocks and hours in cities where people feel the dual strain of the coronavirus surge and the approaching holidays.