Touring 'Fiddler' Honors Musical's Traditions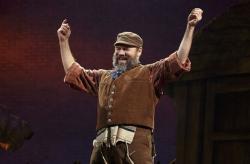 "Fiddler on the Roof" opens with the milkman Tevye explaining the traditions of his Jewish community. In an early 20th century Russian town of Anatevka, everyone knows everyone else; and he's a respected man, poor but a pillar of the community. With five daughters and a wife, he's got a lot of mouths to feed, so who can blame him if he wants his progeny to marry well?

The touring production of this perennial produced musical (with book by Joseph Stein, music by Jerry Bock and lyrics by Sheldon Harnick) is an incredibly fresh and tightly choreographed show, with fantastic dancing and heartfelt performances. Here hardworking As Teyve, Israeli actor Yehezkel Lazarov brings his vast stage experience to his very touching performance, one filled with nuance and great humor.

By his side is his equally hardworking wife, Golde (Maite Uzal), and his five daughters, Tzeitel, the eldest (Kelly Gabrielle Murphy), and her sisters Hodel (Ruthy Froch,) Chava (Noa Luz Barenblat,) with Carly Post and Emma Taylor Schwartz as the youngest girls. Each of the first three will challenge traditions and their father by selecting their own husbands, unheard of in a town that has its own matchmaker Yente (Carol Beaugard, who injects much of the humor of this production.)

Tevye must wrestle with his religious convictions and balance them with his love of his family. When Yente suggests that Lazar Wolf (Jonathan Von Mering), the town's wealthy butcher, marry Tzeitel, Tevye's ecstatic, and so is his wife. After all, he's got his own house, business and a servant. Except that Tzeitel promised to marry a poor tailor Motel (brilliantly performed by Nick Siccone). After Lazar and Tevye drink on the agreement and Golde is informed of the deal, she excitedly gives her husband the honor of telling their daughter. What could be better news?

This of course if the first of three disappointments for the patriarch; both Hodel and Chava will inform him that they too have selected their own partners, Chava's being a Christian Russian soldier. He can only think to disown her; interfaith marriage is forbidden. One can only imagine how deeply felt this must have been in the original production, as directed by the legendary Jerome Robbins 56 years ago; and here that "tradition" continues in this restaging by Bartlett Sher of the 2015 Broadway revival. It is pure musical theater magic.

Christopher Evans choreography is at the center of this show, and Sari Ketter's direction is also to be congratulated. Taking a 1964 musical and making it seem new and fresh is no small accomplishment. It flows like a modern show but sparkles with the emotion and dazzle that must have wowed audiences so many decades ago. This "Fiddler" is something that everyone must see, as fresh and relevant as ever.

"Fiddler On The Roof" is running through February 16th at the Providence Performing Arts Center (PPAC) 220 Weybosset Street, Providence, RI 02903. For information or tickets, call 401-421-2787 or visit www.ppacri.org.
Comments on Facebook