Review: Kate Winslet Excels in New HBO Max Series 'Mare Of Easttown'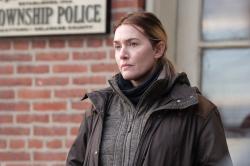 Unlike other film actresses her age, Oscar winner Kate Winslet is not focusing on TV series.  Even though her very first, "Mildred Pierce," garnered her a Golden Globe in 2012.
Winslet, recently seen on the big screen in Francis Lee's glorious sophomore movie "Ammonite," works non-stop, but more importantly is still making such perfect choices over the roles she plays.
In the new HBO series "Mare of Eastown," Winslet is sublime as a downtrodden detective in a blue-collar town in Pennsylvania that seems to be in a time warp. 
Mare's home life is complicated, to say the least.  Her acerbic, opinionated mother (the wonderful Jean Smart) has moved in to help take care of her 4-year-old grandson. His young father, Mare's son, had died of an overdose, and the drug addict mother is not allowed custody.
Completing the household is Mare's lesbian teenage daughter, who is starting to explore her sexuality. iIn the house that is literally at the bottom of the gardens is Mare's ex-husband, with one too many chips on his shoulder, now living with his new fiancee.
It seems that everyone in this small, shabby town knows everyone else, mainly because none of them actually enjoy anything approaching an uncomplicated life.
Mare is the only detective of the town's small police force and she spends most of her time investigating small burglaries. In the back of her mind, however, is the unsolved case of a teenage girl who has been missing for over a year. This suddenly becomes her major focus when another girl goes missing, and another one gets murdered.
Mare is driven to solve the crimes, but she often makes bad calls that can (and sometimes do) backfire on her. She is continually harassed by the mother of the first missing girl, who herself is suffering from cancer, and her own police boss is not always as supportive as he should be. Winslet portrays Mare with such empathy, showing hoe the character bears the pressure of her problematic and demanding family and her job. At the same time, she is constantly frustrated at not being able to solve what happened to the missing girls.
Writer Brad Ingelsby packs his complicated plot with cliffhangers that make us sympathize with Mare even more.
Director Craig Zobel has cast the seven-part series with some really talented actors in supporting roles. Guy Pearce plays a newcomer writer who tries his best to woo Mare; Evan Peters plays a detective sent by the county to help Mare, but he takes a shine to her; Neal Duff plays the local priest who doesn't hit on Mare, as he is actually her cousin.
Whether this excellent series would be so completely mesmerizing and compelling without Winslet at the helm is hardly questionable. What we are also sure of is that we'd love it if she signed up to do a follow-up series.

"Mare of Easttown" premieres on HBO Max April 18.
Roger Walker-Dack, a passionate cinephile, is a freelance writer, critic and broadcaster and the author/editor of three blogs. He divides his time between Miami Beach and Provincetown.
This story is part of our special report titled "Streaming Reviews." Want to read more? Here's the full list.
Comments on Facebook