Review: 'Shadow And Bone' Translates Nicely to the Screen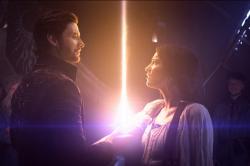 Executive producer and writer Eric Heisserer ("Arrival," "Birdbox"), director Lee Toland Krieger, and American author Leigh Bardugo ("The Grisha Trilogy," "Six of Crows," and "Wonder Woman: Warbringer") come together to deliver the new Netflix series "Shadow and Bone." In eight streamed episodes, loyal readers and new viewers will get to see The Grishaverse for the first time.

The Netflix series is a mashup of novels "Shadow and Bone" and "Six of Crows." It follows closely the adventures and misadventures of sun summoner Alina Starkov (Jessie Mei Li, without whose stunning, vulnerable performance this entire series would crumble to dust), her best friend Malyen Oretsev (Archie Renaux), and General Kirigan (Ben Barnes), who closely watch the antics of a band of golden-hearted criminals - Kaz Brekker (Freddy Carter), Inej (Amita Suman), and Jesper Fahey (Kit Young) - at the opposite end of the world. Between both parties is the Shadow Fold, a dark, evil abyss that hides creatures made of nightmares with teeth sharper than lies. The Fold, as it's known, divides countries, peoples, and trades. Anyone providing safe passage from one side to the other would be the most powerful person to ever live. Alina discovers that she may be the answer to her country's prayers... or a nightmare worse than anything the Fold could spew out.

"Shadow and Bone" takes a good hard look at the anti-Asian racism in the Grishaverse and bares it for all to see. Alina and Mal are assumed enemies until a white person vouches for them in the army camp; they are told by Ravkan soldiers to get to the back of lines, and that they don't belong. Later, a ladies' maid tells Alina to her face that a grisha beautician could start the beautification process by "making her eyes look less Shu (the Grishaverse equivalent for East Asian)."

This racism is parallel to the AAPI hate running rampant in our real Western world. As of March 2021, there were 3,800 anti-Asian racist incidents, mostly against women, over the last year alone, according to NBCnews.com. Anti-Asian racism isn't just physical violence in the streets. It is casual remarks about someone's appearance, or assuming someone doesn't speak the local language because they don't look white enough.

EDGE readers will be excited to know that a drag queen named Poppy Cox (Micah Holmes) appears in Episode 2. She assists the crows while readying herself for the stage. Jesper Fahey has a discreet dalliance with a stableboy in Episode 5. It isn't graphic, but the two men enjoy themselves very much.

It is rare for a Hollywood depiction to match exactly the expansive realms of a mind's twinkly eye. Ben Barnes may not be the spitting image of David Bowie as Jareth, but he tackles the role of General Kerigan with the severity it deserves. His trousers could have been tighter. I didn't expect the actors to have English accents; they do. I expected Russian or Chinese accents. The Fjerdan actors strangely did have Nordic-ish accents. These details shouldn't prevent one from enjoying the series.

Fans of dark fantasy such as "The Witcher" and "The Dark Crystal" will appreciate "Shadow and Bone" for its rules of magic and mystical creatures. Fans of "Enola Holmes" and "The Irregulars" will enjoy its non-canonical elements of steampunk science (Bardugo refers to her novels as Tsarpunk on her Tumblr) and fashion.

This Netflix series is enjoyable in companionship to the novel, not as an exact replica. I read the novels when they came out; I heartily enjoyed them for their lore, world building, and references to the 1986 movie "Labyrinth." Ravka isn't a real place. "Shadow and Bone" isn't a history book. It's all pretend. If Bardugo supports the series, fans have every reason to support it, too.


"Shadow and Bone" is streaming now at Netflix.
This story is part of our special report titled "Streaming Reviews." Want to read more? Here's the full list.
Comments on Facebook