Wild Nights With Emily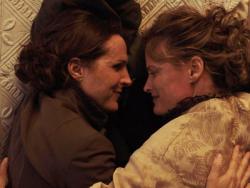 Despite its title, "Wild Nights With Emily" - a rather odd comic take on the life of the celebrated 19th Century American poet Emily Dickinson (Molly Shannon) - gives the impression that Emily's nights were far from wild. Although, according to this decidedly un-academic history, she did have her moments which would shock any serious scholars of her work. 

This third feature film from out gay filmmaker Madeline Olniek (she made the zany "The Foxy Merkin" and "Codependent Lesbian Space Alien Seeks Same") focuses on the unmarried Emily's affairs with women. She was the lifelong lover of her sister-in-law Susan Dickinson (Susan Zeigler), who had only married Emily's brother so that they could carry on the affair that they had started as young women.

The story of their relationship is told in series of flashbacks, and is set against an exaggerated account of how the pushy Mabel Todd (Amy Selmetz) became a co-publisher of Emily's first book of poems, which came out posthumously. Mabel is setting out her stall by falsely pretending to having been a close personal friend of Emily's and is now presenting herself at lectures to groups of women as a real expert on both Emily's life and work. 

All of that contrasts sharply with all the romps, sans hooped skirts, in the bed of Susan, who also happens to be Emily's next door neighbor.

Another myth that Olnek is anxious to debunk is that Emily was reluctant to publish any of her work during her lifetime, and in one of the funniest scenes of the film she has a meeting with Thomas Wentworth Higginson (Brett Gelman) of the prestigious Atlantic Monthly, who takes real joy showing her that he would butcher her work to make it more "readable."

This madcap movie may, or may not, have much semblance of the truth in its plot, but either way it seems to have been designed as a vehicle to show off Shannon's comic talents. Surrounded by so many exaggerated characters, she seems in her element as the dour-looking Dickinson and ekes every laugh she can from playing her.

It is an entertaining romp, even though it lacks any real substance. No matter: this film will no doubt be welcomed with open arms by the LGBTQ community, who have long wanted to recognise Dickinson as one of their own. We could always do with more heroes, so here's another one for the collection.
Roger Walker-Dack, a passionate cinephile, is a freelance writer, critic and broadcaster and the author/editor of three blogs. He divides his time between Miami Beach and Provincetown.
Comments on Facebook