Vita & Virginia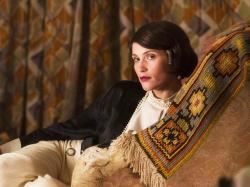 Distinguished British actress Eileen Atkins has adapted her 1992 play "Vita & Virginia" to a stylish new film co-written and directed by Chanya Button. Elizabeth Debicki and Gemma Arterton star as writers Virginia Woolf and Vita Sackville-West. The film dramatizes the complexities of their tumultuous relationship and their status as (privileged) sexual outlaws who weren't going to be controlled by a patriarchal society or their husbands.
It opens with Sackville-West and her diplomat husband Sir Harold Nicolson on the BBC '20s radio broadcast debating the absurdities of male and female roles within heterosexual marriage. They joke about their gender-bending masculine and feminine characteristics as part of their mutual attraction. It comes over as sophisticated repartee, a la Noel Coward, that eludes the reality about Vita's lesbian lovers and Sir Harold's male ones.
Vita is a popular novelist who brings a manuscript for them to publish, but really is using it as an excuse to be near Virginia. Woolf rebuffs Vita's advances, but she tells her husband Leonard, "Well, she sells books and we have to publish Tom Eliot (aka T.S.Eliot) and Sigmund Freud."
Atkins's portrait of the lofty literati of the era is fascinating, particularly the detailing of the backstory of Virginia and Leonard Woolf, who founded The Bloomsbury Press from their country home, even as Virginia struggled with manic-depression and wrote masterpiece novels.
Virginia has episodes of total withdraw and moments of magic realism - a sudden intimate connection with Vita, for instance, where ivy starts to grow in time-lapse on a lamppost as they say goodbye.
They are mutually smitten: The ivy also sprouts up through the floorboards as Virginia walks in a room where Leonard is reading her manuscript for her brilliant novel, "Mrs. Dalloway."
Later, Virginia is consoled by her sister Vanessa and the legendary Bloomsbury Group who want to know details of the affair. "Does she make you want to write... or live?" Duncan, the gay portrait artist, pointedly asks her. "Both," Virginia replies.
Virginia is eventually spirited away by Vita to her family estate, but Virginia suddenly withdraws emotionally when Vita tries to seduce her by surprise and confesses that she "can't," even with her husband Leonard.
Heartsick over the separation from Vita, and exhausted from finishing "To the Lighthouse," she has a breakdown while on a country holiday and is ordered to rest. Leonard, coping with being in a sexless marriage, claims he "doesn't believe in jealousy," and agrees that Virginia's health would improve if she stayed with Vita.
Sir Harold hypocritically becomes furious at Virginia and Vita's increasingly public affair. "This arrangement works because I allow it,": he tells her. Vita replies: "Don't you dare believe that!" Meanwhile, Vita's mother threatens to take her children away if she doesn't stop seeing Virginia.
Soon enough, though, they are in a passionate embrace in front of the fireplace with some hothouse dialogue about death and orgasm, with Virginia saying, "I wonder if death feels anything like that?" Vita asks her if she's happy, and Virginia says yes, but also wonders, 'Do I know you any better than before?"
Vita is demanding and cavalier with her emotions to the distress of Virginia, who starts to panic, and now emotionally distances herself, but channels her frustration into her next masterpiece novel, "Orlando" - which, Vita excitedly reports to Leonard, is about "a 16th century man, who's also a woman."
Gemma Alterton's Vita has a brittle sincerity that is a bit unconvincing, or it may be a mannered performance of a very mannered lover. Elizabeth Dibeki brings clarity and haunted pathos to Virginia so dynamically that it's hard to take your eyes off her.
The supporting roles come across as sketchy and underwritten. But the supporting players Rupert Penry-Jones (Sir Harold Nicolson); Peter Ferdinando (Leonard Woolf); Emerald Fennell (Vanessa Bell); and Adam Gillen (Duncan Grant) - give fine performances, however brief. And Isabella Rossellini brings cranky radiance in her star turn as Vita's disapproving mother, Lady Sackville-West.
The film benefits from a gorgeous and mystical score by Isobel Waller-Bridge that is not decorative (i.e. "cinematic"), but more emotionally primal. Also, Carlos De Carvalho's cinematography captures the mystique Woolf's Bloomsbury sanctum, as well as the lush and earthy British locales of the era.
Vita & Virginia
London 1922. The aristocratic socialite and writer Vita Sackville-West (Gemma Arterton) first lays eyes on the famous novelist Virginia Woolf and vows to pursue her, beginning one of the most notorious and convention-shattering love affairs in literary history. This sensuous and highly literate love story draws heavily on the letters the two married women exchanged bringing these wildly different personalities to life. Vita is a flamboyant extrovert, impervious to scandal, but she's awed by the intellect of her lover. Virginia is physically awkward, a woman of piercing insight and fragile sanity. Through lavish costumes and seductive settings, Vita & Virginia transports us into a past that seems a century ahead of its time.
Info
Runtime :: 110 mins
Release Date :: Jan 01, 2018
Country :: UK

Crew
Lewis Whittington writes about the performing arts and gay politics for several publications.
Comments on Facebook