Watch: Jason Derulo Gives Intimate Details About Bulging Deleted 'Anaconda' Pic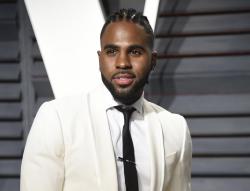 After Instagram deleted his "anaconda" photo, singer Jason Derulo spoke with TMZ about the viral snap and said he wasn't "not aroused."

A reporter told the "Talk Dirty" singer that the social media platform removed the photo, which showed Derulo coming out of the water in Bali because he was "aroused."

"I was not aroused that was the funny thing about it. I was literally, like, coming out of the water," he told TMZ.

"So you were saying you were cold?" the TMZ reporter asked.

"I don't want to say I was shriveled up because I...you know the cold shrivel?" Derulo asked before the TMZ reporter asked if he had "a semi."

"I might have had a semi...I wasn't fully aroused. An arousal looks different. It's a different vibe. When it's fully aroused, it is a different beast," the "Cats" actor responded.

"What type of vibe is that for fans who want to know," TMZ asked.

"It leans more to the front...so like if it's just chilling on the side, it's just a semi vibe...that's not an arousal. An arousal points to the front," Derulo said.

Derulo went on to say that fans probably won't see him in his underwear anymore due to Instagram's rules and that he wants to speak to the social media platform.

"I really do think its discrimination, I really do. All jokes aside," he said. "Let me live! It's not my fault."

Derulo took to Instagram this week to call out the website for removing his viral photo, which he called his "anaconda" pic.

Watch Derulo below.
Comments on Facebook