Top Story
For some same-sex couples, justice delayed was justice denied when one spouse died less than nine months after legal marriage became available. A court ruling has corrected that.
1 thru 10 of 15608 Stories
Though Black Out Tuesday was originally organized by the music community, the social media world also went dark in support of the Black Lives Matter movement, joining voices around the world outraged by the killings of black people in the U.S.
Here's a quick look at the current state of the real estate market in a few cities coast to coast during the COVID-19 crisis.
People with the virus can be contagious without a fever, so it's still important for employers to increase space between workers, disinfect surfaces and encourage hand washing.
A federal judge in Oklahoma has awarded ownership of the zoo made famous in Netflix's "Tiger King" docuseries to Joe Exotic's chief rival.
Several Democratic governors pushed back against President Donald Trump's threat to deploy the U.S. military unless they dispatch National Guard units to "dominate the streets."
Tuesday's primaries in eight states are the biggest test to date of campaigning during the coronavirus era, a way for parties to test-drive new ways of getting out the vote.
Not that anyone expected recognition for Pride month from President Trump, but to some, the Trump campaign's continued selling of MAGA "pride" shirts is confounding.
President Donald Trump spread a number of false and misleading claims about the World Health Organization in announcing his decision to cut U.S. ties with the agency.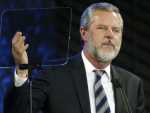 In a letter to Falwell, 35 faith leaders and former student-athletes told Falwell that his past comments "have repeatedly violated and misrepresented" Christian principles.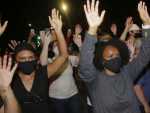 What's easy to get lost are peaceful protesters concerned about police treatment of minorities — the raw wound reopened by George Floyd's death.
1 thru 10 of 15608 Stories