Tremors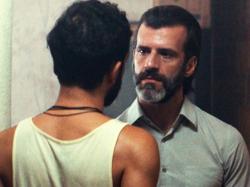 On DVD & Digital today!
- - -
The intense psychological intimidation and torment focused on gay teens in America who are subjected to the quack methods of "conversion therapy" has been revealed for the faith-based bullying it is in recent movies like "Boy Erased" and "The Miseducation of Cameron Post," both of which made waves last year. But what about adults who are forced to undergo such charlatanism? What takes them there - and do they have a prayer of escaping once they are in its clutches?
That's the core focus of Jayro Bustamante's "Tremors (Temblores)," which is named as much for the superstitious panic around natural phenomena like earthquakes (they must be "punishment from on high!") as for the catastrophic upheaval of a middle-aged man's life as he tries to come out of the closet in the face of a cruelly punitive society, a deeply homophobic legal culture, and his ruthless, wealthy wife, a woman willing to put her children through the wringer as a means of striking back at him. (She conveniently shifts the blame while she's at it, screaming that he's harming the kids "irreparably.")
The man at the center of the film is Pablo (Juan Pablo Olyslager), whom we first meet as he drives home through a downpour. Pulling up to his large, well-appointed home, Pablo is warned by a servant that his wife Isa (Diane Bathen) has taken the kids and fled; when he enters the house he finds his family there, waiting for him, staging what looks to be some sort of intervention.
It's a mess, what with Pablo's father counseling him to pretend to be straight for the sake of the family, his mother having religious conniptions, and others in the family either soothing or accusing him. It's an unsparing start that catches the viewer off-balance, much as Pablo himself is caught unprepared for the fallout of his recent decision to leave his wife, move out, and embrace his authentic nature.
But if his family is less than accepting, his lover, Francisco (Mauricio Armas Zebadúa), is not really much better. "It's not easy being a faggot," Francisco shrugs, back at the rat-trap apartment Pablo has rented. "What did you think would happen?" One wonders why Francisco wasn't more proactive in warning Pablo about the likely consequences until it becomes apparent that Francisco is often drunk, constantly broke, and something of a fair-weather friend. Despite that, there remains a genuine caring connection between the two men, and while Francisco isn't above passive-aggressive gestures that speak to his desire to see Pablo throw over his family for him, Francisco is also extremely self-assured and unwilling to capitulate to any of the people who show up to badger him - including Pablo's mother, not to mention a woman from an evangelical church who sits Francisco down for a friendly chat ("friendly" in the mafioso sense of the word, that is) to let him know that "lifestyles" come complete with rules - and Pablo's "lifestyle" is not ready to let him go.
Pablo faces the complications and outrages that have beset men in failed marriages for ages: Isa gets him fired from his job on "moral" grounds, and secures a court order barring him from having any contact with his own children. She also refuses to see or speak to him herself. As the city continues to be shaken from time to time with minor quakes, Pablo grows concerned for the safety of his children - and he should; they are anxious and upset, and not because of the tremors. They have picked up on talk that Daddy has a "disease," and they anxiously discuss what this might mean.
A favorite pressure tactic of totalitarian governments is to use children as leverage against anyone who might stand top and resist. So too the church, society, and family that Pablo has to deal with. As long as he "remains" gay, he will be prevented from earning a living or being the kind of father he wants to be; he's also tagged, by the judge, as unfit to be around minors of any sort, not just his own kids. Pablo's arguments against these absurdities fail to bring the slightest glimmer of compassion to the stony faces of his family.
Meantime, the pastor at the church offers a ready-made and convenient way out of Pablo's nightmare. He claims to "cure" gays with bogus herbal concoctions, violent wrestling matches conducted in nothing more than boxer shorts, and communal showers. The pastor is also kindly, understanding, and full of gentle bromides - gentle, that is, and yet also utterly fallacious. (Note, too, that not all of the pastor's offerings are really so gentle; any form of counseling that involves rubber gloves and injections to a guy's private parts is to be viewed with a high degree of skepticism.)
While American movies of this sort like to pretend that our nation is still on what once seemed like an inevitable arc toward justice, Bustamente knows better, "Tremors" is set in Guatemala City, but don't make the mistake of thinking that such irrational, asymmetrical legal and religious systems only exist elsewhere. What might excite many viewers to a state of mind in which they congratulate themselves on living in a land of the free should really have a much different effect: Warning us that what we see in less progressive nations right now might be a preview of our own country's imminent future.
Kilian Melloy serves as EDGE Media Network's Assistant Arts Editor. He also reviews theater for WBUR. His professional memberships include the National Lesbian & Gay Journalists Association, the Boston Online Film Critics Association, The Gay and Lesbian Entertainment Critics Association, and the Boston Theater Critics Association's Elliot Norton Awards Committee.
Comments on Facebook