Review: 'Sudden Fear' on DVD Recalls Crawford at Her Best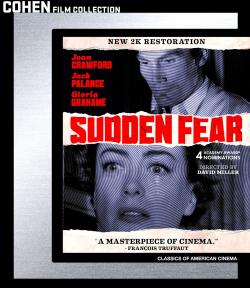 The 1952 Best Actress race pitted Joan Crawford against Bette Davis for the first and only time. Crawford was nominated for "Sudden Fear" and Davis was tapped for "The Star." Both lost to Shirley Booth in "Come Back, Little Sheba," pretty much a foregone conclusion since Booth won all the (then) precursors.
Was this the beginning of the infamous rivalry that would intensify while filming the iconic "What Ever Happened to Baby Jane" a decade later and would boil over while the two were shooting "Hush...Hush, Sweet Charlotte" in 1964, resulting in Crawford's either being ousted or dropping out (or some combination)? Are the studios to blame for pitting female actors of a certain age against one another?
Who's to say, and probably. Regardless, some good work was being done by the few actresses over 40 who fought to continue to get decent roles. Crawford was no exception.
"Sudden Fear" was favorably reviewed and well-attended when it was released, and Crawford's third Oscar nomination would prove to be her last.
The genre-mashup noir-romance-thriller, directed with a wink and a grimace by David Miller ("Lonely are the Brave") opens with celebrated playwright and heiress Myra Hudson (Crawford) casting her new play and nixing a talented, but not-so-easy-on-the-eyes, leading man, Lester Blaine (Jack Palance).
Post-smash opening night, Myra encounters Lester on a train bound for her home in San Francisco. Suffice to say, he manipulates her into a courtship and eventual marriage. The naive Myra falls in love, but the jaded 21st century viewers know what is really happening.
We soon learn that Lester is scheming to get his hands on her fortune (left to her by her late father) and is aided in the plot by his old flame Irene Neves (a deliciously greedy Gloria Grahame). Myra stumbles on their plans when she listens to an accidental recording of the two on her Dictaphone. Initially horrified, she soon decides to turn the tables. But the best laid plans...
There's a Hitchcockian suspense going on here, and some camp enjoyment to be had. Also, and for the record, as politically incorrect as it might be to point out, Jack Palance was not a pretty man, so Crawford's character's refusal to cast him in her play makes loads of sense.
But the draw here is Crawford, and she delivers magnificently. If you can toss away any hints of "Mommie Dearest" (and I realize that is difficult), you might truly appreciate an actress who knows when to hold back and when to let loose.
One of the things that struck me about "Sudden Fear" was that, even when women were in peril onscreen in the 1950s, they took charge and the end result was either empowering or, at least, satisfying. None of this needing to be saved by a man crap or, worse, turning the female into a psycho, like Glenn Close in "Fatal Attraction."
In "Sudden Fear," no man comes to Crawford's rescue. And while karma plays a part in the climax, and I'm sure the production code messed with a better ending, rest assured Crawford walks away a survivor, not a victim.
It's cool when Crawford is finally able to stop playing the frightened damsel and actually begin to seek vengeance. And one of her best bits of acting requires her to speak no words. In the lengthy and riveting sequence where she listens to the recording of her husband's betrayal, Miller lets the camera linger on her face and the actress gives us a remarkable range of emotions. It's her Oscar moment, if you will. It's also a master class in "re-acting."
The film received four Oscar nominations: For Crawford, Palance (Supporting Actor), Cinematography, and Costume Design.
Strangely, "Sudden Fear" was released on Blu-ray by Cohen in 2016 and is now getting a DVD-only pressing. I'm not sure what the Blu-ray looks like, but the DVD is cleaner than I expected and the sound quality is excellent. Charles B. Lang, Jr.'s transfixing cinematography pops.
The Special Features are thin carryovers from the initial release, with only the trailer and an informative and chatty Audio Commentary by film historian Jeremy Arnold.
If you're a Crawford fan or a Davis lover who is skeptical about Crawford's acting, pick up "Sudden Fear" and you may find yourself surprised by how good the diva actually could be with a meaty role.

"Sudden Fear" is available on DVD from Cohen Media Group.
Frank J. Avella is a film and theatre journalist and is thrilled to be writing for EDGE. He also contributes to Awards Daily and is the GALECA East Coast Rep. Frank is a recipient of a 2019 International Writers Retreat Residency at Arte Studio Ginestrelle (Assisi, Italy), a 2018 Bogliasco Foundation Fellowship, a 2016 Helene Wurlitzer Residency Grant and a 2015 NJ State Arts Council Fellowship Award. He is an award-winning screenwriter and playwright (CONSENT, LURED, SCREW THE COW, FIG JAM, VATICAN FALLS) and a proud member of the Dramatists Guild.
https://filmfreeway.com/FrankAvella
https://muckrack.com/fjaklute
Comments on Facebook