Top Story
An exhibition of art about Michael Jackson is opening in Germany amid fresh controversy over the singer's alleged abuse of children.
1 thru 10 of 48017 Stories
Barack Obama is feeling the love about the engagement of Jennifer Lopez and Alex Rodriguez.
Nevada legislators have introduced a bill that would ban the use of the so-called "gay panic defense" in cases of lethal anti-LGBTQ violence.
Months after Microsoft, Amazon, and Apple dropped an app that allegedly shills so-called "conversion therapy," Google still provides the app a platform — despite the practice having been outlawed for minors in a number of states.
A British revival of the stage version of "The Color Purple" was set to star Oluwaseyi Omooba - until anti-LGBTQ Facebook comments posted by the actor in 2014 came to light. She had been set to portray a woman who has a lesbian relationship.
A transgender student says his Georgia high school removed him from this year's prom king ballot.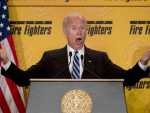 Joe Biden says he has "the most progressive record" of any Democrat running, or mulling a run, in 2020. But many progressive activists disagree.
R. Kelly yelled through tears in a TV interview before an audience numbering in the millions, saying he's in a fight for his life to disprove sexual abuse charges. That fight will ultimately be waged in court, with an audience numbering just 12 jurors.
President Donald Trump is intensifying his efforts to discredit a highly anticipated report on the special counsel's Russia investigation.
By the time California's presidential primary election arrived in 2016, Bernie Sanders was a beaten man. This time around, everything has changed.
Swedish Electro Pop duo Icona Pop, whose breakout hit "I Love It" (featuring Charli XCX) topped charts around the world in 2013, will perform as the headlining act at Miami Beach Pride.
1 thru 10 of 48017 Stories