1 thru 10 of 6531 Stories
The strike by military police demanding higher salaries in the state of Ceara is a headache for President Jair Bolsonaro, a staunch supporter of police forces who has pledged to curb violent crime.
A festive mood has enveloped Ahmedabad in India's northwestern state of Gujarat ahead of Prime Minister Narendra Modi's meeting there on Monday with President Donald Trump, whom he's promised millions of adoring fans.
The country's leaders are struggling to figure out how to counter a recent rise in right-wing hate, 75 years after the Nazis were driven from power.
Devastated after again being targeted at school for his dwarfism, a sobbing Quaden Bayles repeatedly told his mother that he wanted to die. The 9-year-old Australian's deep distress went viral on social media.
On Wednesday, a 43-year-old German, Tobias Rathjen, shot to death nine people with immigrant backgrounds in a Frankfurt suburb before apparently killing his mother and himself.
A dozen towns in northern Italy were on effective lockdown Saturday after the new virus linked to China claimed a first fatality in Italy and sickened an increasing number of people who had no direct links to the origin of the virus.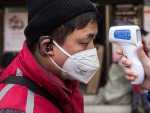 You might have heard that the fear of a new virus from China is spreading faster than the actual virus.
China's leadership sounded a cautious note Friday about the country's progress in halting the spread of the new virus that has now killed more than 2,200 people, after several days of upbeat messages.
A Polish mayor is trying to make amends with a French community that broke formal ties with another Polish town because the latter adopted a declaration against "LGBT ideology."
Two elderly passengers taken off the quarantined cruise ship Diamond Princess because they were infected with the new virus have died, Japan's Health Ministry said Thursday, becoming the first fatalities from the virus-stricken vessel.
1 thru 10 of 6531 Stories