Pop Culturing is an ongoing weekly column that looks at new television, film and music and their place in the larger cultural conversation.
As the streaming wars heat up, Quibi, a new and edgy competitor to Netflix and other companies, enters the ring this week at an unfortunate time.
Hulu's "Little Fires Everywhere," starring Reese Witherspoon and Kerry Washington, has the hallmarks of an important show as it tackles some intense issues like class, race, and motherhood, but it is trapped by its conventionality.
In its third installment, HBO's popular "Westworld," which debuts March 15, ditches its theme park for a futuristic L.A. world. But the dystopian A.I. drama doesn't get rid of the problems that has long plagued the series.
"Devs," the new conspiracy/neo-tech thriller from filmmaker Alex Garland, is an ambitious and accomplished new series and the best TV show of 2020 so far.
With an all-star cast, "Dispatches from Elsewhere," a new quirky anthology series starring and created by Jason Segel that's debuting Sunday on AMC, is admirable and ambitious but fails to fully connect.
Zoë Kravitz is given a platform to showcase her acting chomps in Hulu's delightful take on iconic novel/film, "High Fidelity," which is now streaming.
Too kiddie to be an adult drama and too intense to be a children's show, Netflix's adaptation of "Locke & Key," based on the beloved comic series, is no "Stranger Things" and no "The Haunting of Hill House."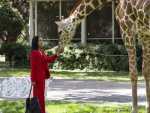 For all of its twists, turns and slick style, Rosario Dawson proves to be the best thing about USA's new anthology series "Briarpatch."
The penultimate season of Netflix's long-running sitcom, "Grace and Frankie," offers nothing new.
RuPaul's scripted new series "AJ and the Queen," now on Netflix, is part road trip comedy and part 80s after school special.