1 thru 10 of 8005 Stories
Joshua Lyon didn't think he'd get to work with Edie Windsor in writing her biography, but he got the gig and worked on it with the LGBTQ icon before her death. EDGE caught up with Lyon to talk about the finished book, "A Wild and Precious Life."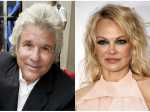 Pamela Anderson has married movie producer Jon Peters.
Rocker Ozzy Osbourne says that he's been diagnosed with Parkinson's disease, a nervous system disorder that affects movement.
A wrongful death lawsuit filed by Prince's family members has been quietly dismissed in recent months, suggesting family members have reached settlements with defendants.
The men bringing James Dean back to life for a forthcoming film are aiming not just to give his digital likeness a role, but a whole new career.
Prince Harry took aim at the journalists who have dissected his life since the day he was born as he expressed regret for the way he has had to step down from royal duties.
Prince Harry said Sunday that he felt "great sadness" but found "no other option" to cutting almost all of his and his wife Meghan's royal ties in the hopes of achieving a more peaceful life.
Prince Harry and his wife, Meghan, have made their choice: a radical break from palace protocol, constant press intrusion and a lavishly funded lifestyle.
Goodbye, your royal highnesses. Hello, life as — almost — ordinary civilians.
Oprah Winfrey said Friday that Russell Simmons attempted to pressure her about her involvement with a documentary in which several women detail sexual abuse allegations against the rap mogul.
1 thru 10 of 8005 Stories