Gay Provincetown: The Latest
Provincetown, MA
Steven Maler, the artistic director of Commonwealth Shakespeare Company, long admired the work of playwright Naomi Wallace. With his upcoming production of her adaptation of the novel "Birdy," Maler got the opportunity to direct one of her plays.
Across the U.S. and in many places abroad, transgender athletes are breaking barriers in high school, college and pro sports and being embraced by teammates and fans. But resentments can still flare,
Yalitza Aparicio, the Oscar-nominated, first-time actress in "Roma," is finding strong support among Mexican-American women who identify with her indigenous roots despite backlash she is receiving in Mexico.
Jackie Shane, a black transgender soul singer who became a pioneering musician in Toronto where she packed out nightclubs in the 1960s, has died. She was 78.
Iowa play-by-play announcer Gary Dolphin was suspended Friday for the rest of the season for referring to Maryland's Bruno Fernando as "King Kong" during a game.
Special counsel Robert Mueller's sentencing memorandum for former Trump campaign chairman Paul Manafort was not publicly available late Friday, suggesting the document may still be under seal.
Former Vice President Joe Biden is seizing on that opening to position himself as the sole global policy expert in a crowded Democratic field if he decides to run for president.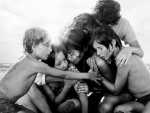 There are two things to know about the Oscars this year: the lead-up has been crazy and there is no clear cut winner for Best Picture. EDGE writers make their picks for who will win, should win and should have been nominated.
R. Kelly, the R&B star who has been trailed for decades by allegations that he violated underage girls and women and held some as virtual slaves, is due in court Saturday after being charged with aggravated sexual abuse involving four victims.
Robert Kraft, the billionaire owner of the New England Patriots, faces charges of soliciting a prostitute after he was twice videotaped in a sex act at a shopping-center massage parlor in Florida, police said Friday.
Despite the conflict's savagery, what followed was a remarkable rapprochement between wartime foes and it took merely 20 years to restore full relations.
Special counsel Robert Mueller's report on the Russia investigation is not expected to be delivered to the Justice Department next week, a senior department official told The Associated Press on Friday.
Provincetown, MA
ArtsEmerson's latest offering is a stark and haunting new work by Director and Choreographer Raphaëlle Boitel — "When Angels Fall."
The most tumultuous Oscar season in memory might pale in comparison to the aftermath.
Still struggling to come to terms with their share of responsibility in the clerical sex abuse scandal rocking the Catholic Church, France's bishops have agreed to award financial compensation to victims.
Zebra stripes are dazzling — particularly to flies. That's the conclusion of scientists who dressed horses in black-and-white striped coats to help determine why zebras have stripes.
A personal account of how medical bills can amplify the struggle families face during a critical illness.
Automakers Daimler and BMW say that trustworthy handling of personal data will be a key competitive advantage in their new joint venture that offers app-based services like free-floating car-sharing in big cities.

Anna Wintour paid tribute Friday to Karl Lagerfeld's generosity and sense of humor as she presented a new fashion exhibition

Take a look at the winners of the Mumbai Shree 2019 Men's Physique Competition!
Hundreds of Southwest Airlines flights have been delayed as the carrier deals with winter weather and a computer outage.

The annual Cupid's Undie Run in Philly, raises money for the Children's Tumor Foundation. Check out these fun photos.