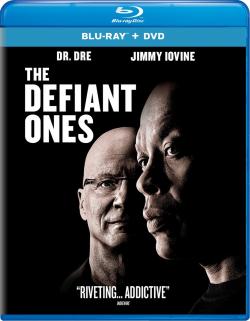 Bring home the highly anticipated four part documentary, The Defiant Ones, available on Digital on November 20, 2017 and on Blu-ray and DVD on November 28, 2017 from UPHE Content Group. Director Allen Hughes (Menace II Society, Dead Presidents) has made an unquestionably bold film about the unlikely but unbreakable bond of trust and friendship between Dr. Dre and Jimmy Iovine, two street-smart men from different worlds who have shaped many of the most exciting and extreme moments in recent pop culture.

Hughes filmed Jimmy Iovine and Dr. Dre with unfettered access over a three-year period in making The Defiant Ones. The series includes extensive interviews with Dre and Iovine, who speak frankly about their highs and lows as well as interviews with major music icons including: Snoop Dogg, Bruce Springsteen, Gwen Stefani, Bono, David Geffen, Eminem, Nas, Stevie Nicks, Kendrick Lamar, Ice Cube, Jon Landau, Patti Smith, Lady Gaga, Doug Morris, Tom Petty, Trent Reznor, Diddy, Alonzo Williams and will.i.am. The series also features never-before-seen footage from a multitude of recording and writing sessions with Eazy-E, JJ Fad, Stevie Nicks, N.W.A., Tom Petty, The D.O.C., Bruce Springsteen and U2, among others.

Set amid many of the defining societal and cultural events of the past four decades, The Defiant Ones tells the stories of two men from different tough neighborhoods and their improbable partnership and surprising leading roles in a series of transformative events in contemporary culture. This revealing, compelling and often-gritty story takes place in recording studios, in humble homes, in criminal courts and in the highest corridors of corporate power.

Defiance is defined as "daring or bold resistance to authority or to any opposing force." This unique and inspiring tale shows how decades of defiance and determination helped Jimmy Iovine and Dr. Dre build a few empires, make a series of American Dreams come true and transform two street kids into global forces to be reckoned with, here and now. The result is a master class in how to work your way up from the bottom to beyond your wildest dreams.

http://uni.pictures/DefiantOnes
#TheDefiantOnes

Enter to win!

Thanks for visiting EDGE!
Enter this contest
If you already have an account with EDGE, all you need to do is log in; we'll pull your address information from your account and simply ask you to verify it. If you do not yet have an account with us, register now! It's easy and free, and you'll never have to type in your personal information again. If you prefer to enter this information manually, you can use the manual entry link below.
Register
Manual Entry
Click here for contest rules.
* Please be aware that creating multiple accounts for the same person will disqualify you.