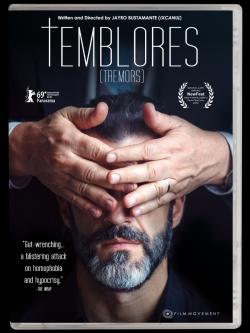 A MARRIED MAN FACES THE CRUEL AFTERSHOCKS OF THE REVELATION OF HIS HOMOSEXUALITY IN A GUT-WRENCHING GUATEMALAN DRAMA FROM CELEBRATED DIRECTOR JAYRO BUSTAMANTE

TEMBLORES

OUT 3/10

In this deeply personal follow-up to his landmark debut Ixcanul, Director Jayro Bustamante shifts his focus from rural Guatemala to Guatemala City, but once again sets his sights on an individual caught between two seemingly irreconcilable worlds.

When handsome and charismatic Pablo (Juan Pablo Olyslager) arrives at his affluent family's house everyone is eagerly awaiting the return of their beloved son, devoted father and caring husband. A seemingly exemplary pillar of Guatemala City's Evangelical Christian community, Pablo's announcement that he intends to leave his wife for another man sends shock waves through the family. As Pablo tries to acclimate to his new life in the city's gay subculture with the liberated Francisco, his ultra-religious family does everything in its power to get their prodigal son back on track, no matter the cost. "If Bustamante's lucid second feature makes it feel as though the world itself is trembling beneath your feet, it's because this mercilessly grounded film keys into the devilishness of Pablo's dilemma: Forcing him to choose between himself and his family is the only way to guarantee that he ultimately loses both" (David Ehrlich, IndieWire).

Winner of numerous awards on the festival circuit, including the Best Latin American Film at the San Sebastián International Film Festival, the Emerging Filmmaker Award for Bustamante at the Minneapolis St. Paul International Film Festival and the Grand Jury Award for Juan Pablo Olyslager for Outstanding Performance in an International Narrative at L.A. Outfest, TEMBLORES garnered universal acclaim from critics and audiences alike. Devika Girish of The New York Times called the film "vividly imagined," while Michael Rechtshaffen of The Los Angeles Times says it's "a penetrating, mournful portrait of sexual identity" and Guy Lodge of Variety pens "As the latest in a long line of films to examine the hypocrisy-laden clash between gay rights and evangelical Christian ethos ... this strong second feature from Guatemalan talent Jayro Bustamante doesn't ask new questions, but its sensuous, reverberating atmospherics find fresh, angry ways to answer them."
Enter this contest
If you already have an account with EDGE, all you need to do is log in; we'll pull your address information from your account and simply ask you to verify it. If you do not yet have an account with us, register now! It's easy and free, and you'll never have to type in your personal information again. If you prefer to enter this information manually, you can use the manual entry link below.
Register
Click here for contest rules.
* Please be aware that creating multiple accounts for the same person will disqualify you.