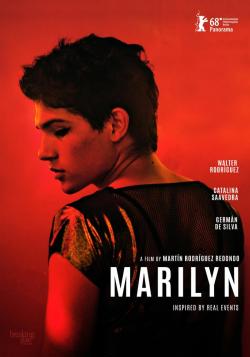 Marcos and his family work as caretakers on a ranch. While his father and brother handle the heavier tasks, Marcos stays home close to his mother. Each one has their future laid out before them, but Marcos is just waiting for the arrival of Carnival, the one moment when he can let his true self out to shine and show everyone just the way he feels inside. The sudden death of his father leaves the family in a very vulnerable situation. The ranch owner hounds them to go away, while Marcos's mother pressures him to take over the work in the fields. Nicknamed Marilyn by the other teenagers in town, Marcos is a target for desire and discrimination. And then one Carnival night he is raped....

Based on a shocking real case, Marilyn brings to the screen a powerful breakthrough lead performance by Walter Rodríguez as a boy confronted with the impossibility of being who he wants to be.

Los Angeles theatrical begins April 26 at Laemmle Music Hall, on DVD & VOD on April 30.

Enter to win!

Thanks for visiting EDGE!
Enter this contest
If you already have an account with EDGE, all you need to do is log in; we'll pull your address information from your account and simply ask you to verify it. If you do not yet have an account with us, register now! It's easy and free, and you'll never have to type in your personal information again. If you prefer to enter this information manually, you can use the manual entry link below.
Register
Manual Entry
Click here for contest rules.
* Please be aware that creating multiple accounts for the same person will disqualify you.