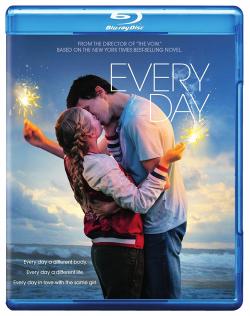 DISCOVER WHAT LOVE MEANS

EVERY DAY

On Digital May 22
On Blu-ray & DVD June 5

Experience the most original love story of the year when "Every Day" arrives on Blu-ray and DVD June 5 from Warner Bros. Home Entertainment. The film will also be available early for Digital Download on May 22. From Orion Pictures comes the romantic drama "Every Day," directed by Michael Sucsy ("The Vow") and based on David Levithan's acclaimed New York Times best-selling novel of the same name. Based on David Levithan's acclaimed New York Times bestseller, "Every Day" tells the story of Rhiannon, a 16-year old girl who falls in love with a mysterious soul named "A" who inhabits a different body every day. Feeling an unmatched connection, Rhiannon and A work each day to find each other, not knowing what or who the next day will bring. The more the two fall in love, the more the realities of loving someone who is a different person every 24 hours takes a toll, leaving Rhiannon and A to face the hardest decision either has ever had to make.

Special Features:

· An A By Any Other Name - Explore the main character A and how the filmmakers and cast portrayed an entity that wakes up in a different body every day.

· Love is Love - See what it really means to love another human being, accepting people for who they are.

· Every Day People - The cast of Every Day provides insight into their characters and the story.

· Book to Film Adaptation - The cast, filmmakers and author of Every Day discuss the process of bringing the book to life for the big screen.

· Deleted Scenes

#EveryDayMovie

https://www.facebook.com/EveryDayTheMovie/

Enter to win!

Thanks for visiting EDGE!
Enter this contest
If you already have an account with EDGE, all you need to do is log in; we'll pull your address information from your account and simply ask you to verify it. If you do not yet have an account with us, register now! It's easy and free, and you'll never have to type in your personal information again. If you prefer to enter this information manually, you can use the manual entry link below.
Register
Manual Entry
Click here for contest rules.
* Please be aware that creating multiple accounts for the same person will disqualify you.