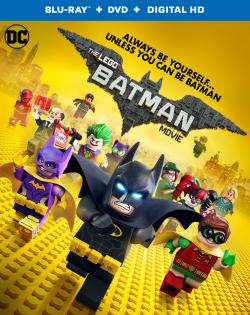 "Action-Packed and Full of Heart"
--Access Hollywood

DON'T MISS THE HILARIOUS FAMILY ADVENTURE OF THE YEAR WHEN

THE LEGO® BATMAN MOVIE

ARRIVES ONTO ULTRA HD BLU-RAY COMBO PACK, BLU-RAY 3D COMBO PACK, BLU-RAY COMBO PACK, DVD AND DIGITAL HD FROM WARNER BROS. HOME ENTERTAINMENT

Own it early on Digital HD on May 19

Blu-ray debuts on June 13

Bring home the year's funniest family adventure when "The LEGO® Batman Movie," arrives onto Ultra HD Blu-ray Combo Pack, Blu-ray 3D Combo Pack, Blu-ray Combo Pack, DVD and Digital HD. The film features Will Arnett who reprises his starring role from "The LEGO Movie," as the voice of LEGO Batman, aka Bruce Wayne.

In the irreverent spirit of fun that made "The LEGO Movie" a worldwide phenomenon, the self-described leading man of that ensemble-LEGO Batman-stars in his own big-screen adventure. But there are big changes brewing in Gotham City, and if he wants to save the city from The Joker's hostile takeover, Batman may have to drop the lone vigilante thing, try to work with others and maybe, just maybe, learn to lighten up.

The film also features Zach Galifianakis (the "Hangover" films, "Muppets Most Wanted") starring as The Joker; Michael Cera (TV's "Arrested Development") as the orphan Dick Grayson; Rosario Dawson (TV's "Daredevil") as Barbara Gordon; and Ralph Fiennes (the "Harry Potter" films) as Alfred.

"The LEGO Batman Movie" is directed by Chris McKay, and produced by Dan Lin, Phil Lord, Christopher Miller and Roy Lee, who worked together on "The LEGO Movie." Jill Wilfert, Matthew Ashton, Will Allegra and Brad Lewis serve as executive producers. The story by Seth Grahame-Smith is based on LEGO Construction Toys characters from DC and the screenplay is written by Seth Grahame-Smith, Chris McKenna, Erik Sommers, Jared Stern and John Whittington.

"The LEGO Batman Movie" will be available on Ultra HD Blu-ray Combo Pack for $44.95, Blu-ray 3D Combo Pack for $44.95, Blu-ray Combo Pack for $35.99 and 2-disc DVD Special Edition for $28.98. The Ultra HD Blu-ray features an Ultra HD Blu-ray disc with the film in 4K with HDR, a Blu-ray disc of the film in high definition, and a digital version of the film in Digital HD with UltraViolet*.The Blu-ray 3D Combo Pack features the theatrical version of the film in 3D hi-definition, hi-definition and standard definition; the Blu-ray Combo Pack features the theatrical version of the film in hi-definition on Blu-ray; and the DVD features the theatrical version in standard definition. All versions include a digital version of the movie in Digital HD with UltraViolet.* Fans can also own "The LEGO Batman Movie" via purchase from digital retailers beginning May 19.

Additionally, all of the special features, including interviews with filmmakers, new original shorts, featurettes, deleted scenes and 360° videos, can be experienced in an entirely new, dynamic and immersive manner on tablets and mobile phones using the Warner Bros. Movies All Access App, available for both iOS and Android devices. When purchased digitally and redeemed on UltraViolet, the Warner Bros. Movies All Access App allows users to watch the movie and simultaneously experience synchronized content related to any scene, simply by rotating their device. Synchronized content is presented on the same screen while the movie is playing, thus enabling users to quickly learn more about any scene, such as actor biographies, scene locations, fun trivia, or image galleries. Also, users can share movie clips with friends on social media and experience other immersive content. The Movies All Access app is available for download on the iTunes App Store and Google Play Store.

The Blu-ray discs of "The LEGO Batman Movie" will feature a Dolby Atmos® soundtrack remixed specifically for the home theater environment to place and move audio anywhere in the room, including overhead. To experience Dolby Atmos at home, a Dolby Atmos enabled AV receiver and additional speakers are required, or a Dolby Atmos enabled sound bar; however, Dolby Atmos soundtracks are also fully backward compatible with traditional audio configurations and legacy home entertainment equipment.

#LEGOBatmanMovie
https://www.facebook.com/LEGOBatmanMovie/

Enter to win!

Thanks for visiting EDGE!
Enter this contest
If you already have an account with EDGE, all you need to do is log in; we'll pull your address information from your account and simply ask you to verify it. If you do not yet have an account with us, register now! It's easy and free, and you'll never have to type in your personal information again. If you prefer to enter this information manually, you can use the manual entry link below.
Register
Manual Entry
Click here for contest rules.
* Please be aware that creating multiple accounts for the same person will disqualify you.