Top Story
A breakdown of the queer 71st Primetime Emmy nominations.
1 thru 10 of 2986 Stories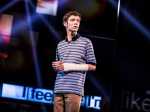 Few musicals bond so immediately with its audience as "Dear Evan Hansen," the sensational musical that has developed into a cultural sensation.
Provincetown, MA
The friendship between unlikely allies, a pig and a spider, are at the core of the classic E.B. White children's book, "Charlotte's Web."
Provincetown, MA
The work of up and coming playwrights from around the country is being showcased in Artists' Exchange's 14th Annual One Act Play Festival. The plays are all performed at Theatre 82's black box theatre.
Provincetown, MA
In honor of the 30th anniversary of the smash hit film, Hub Theatre Company of Boston presents the award-winning comedy "Steel Magnolias," directed by Paula Plum, Friday, July 19 - Saturday, August 3 at Boston's Club Café.
Provincetown, MA
"Queen Margaret" is a terrific entertainment which holds a mirror up to humanity's worst impulses.
This is a play for everyone. Even the younger set in the audience were guffawing and giggling throughout. This is a terrific night at the theatre and will have you walking out on a silly high.
Provincetown, MA
She's played frosty noir queens and brought her stage presence to companies as diverse as Bridge Rep, Zeitgeistm and the Hub Theatre Company. Now Liz Adams is back with the Hub once again for their rendition of a classic: "Steel Magnolias."
Tammie Brown made an impression on the first season of "RuPaul's Drag Race," and hasn't stopped since. EDGE spoke to the drag star about her summer-long residency in Provincetown where she has brought her show.
This past Tuesday, the nearly sold out audience at the Emerson Colonial Theatre was roaring with laughter every few minutes, that is when they weren't enrapt with the beautiful singing coming from the stage in "A Conversation with Jessie Mueller."
AOC's appearance at a drag show at the McKittrick Hotel in New York City just might cause a few conservative heads to explode. Her words to the crowd? "You are beautiful. You are accepted."
1 thru 10 of 2986 Stories