She's a Man Eater! :: Cameron McEachern on Building Ravenous Plant Puppets for 'Little Shop of Horrors'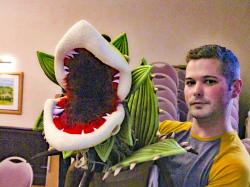 It's hard to believe that the stage musical "Little Shop of Horrors" began life as a low-budget 1960 movie by B-Movie king Roger Corman, who co-wrote and directed; even harder to parse that, well before the modern spate of stage musicals that have sprung from non-musical films ("The Producers," "Waitress"), a 1982 stage musical version of the Corman movie followed, with Alan Menken penning the book and Howard Ashman writing the songs. (Another movie — a musical film — followed in 1986, starring a bevy of comedians, including Rick Moranis, Steve Martin, Jim Belushi, John Candy, and Bill Murray, and directed by Frank Oz, with Ashman returning to write the screenplay.)

Even now, the stage musical enjoys frequent productions across the country — and Boston's Lyrics Stage Company is set to bring it back to Beantown.

What is this dark and twisted tale, and why do audiences keep coming back for more?

"Little Shop of Horrors" is about a florist named Seymour who comes to care for a ravenous man-eating plant that has suddenly appeared out of nowhere — and done so during an eclipse, as if simply suddenly manifesting weren't sinister enough. In an example of spectacularly misplaced affection, Seymour names the killer plant after the married woman for whom he pines, dubbing it "Audrey II." The plant becomes a local celebrity, while the original Audrey turns out to have feelings for Seymour, not to mention an abusive boyfriend. Murder and mayhem follow. And that's just Act One.

The songs are snappy pop confections, and outrageous comedy is the order of the day, but it's Audrey II that's the real star of the show. Naturally, this means that the puppets used to portray Audrey II on stage have to fall somewhere between cute and terrifying; they also have to find a space between fantasy and realism. Oh, and as Audrey II grows and the puppets get bigger, they must be able to convincingly swallow live actors whole. Easy, right?

Or maybe not so much. EDGE had a chance to catch up with the puppet builder for the Lyric's production, Cameron McEachern, and find out just what goes into the care, feeding, and construction of your average botanical man-eater.
EDGE: Cameron, I understand that you are primarily a scenic artist, though you have some experience with making props and puppets. How did you come to get this gig?

Cameron McEachern: It's actually all thanks to the director, Rachel Bertone. I've worked with her many times in the past, and she knew that I'm a perfectionist with the insane attention to detail that is needed to create the plant [puppets].

EDGE: It sounds like you enjoy a challenge. What got you into this line of work in general?

Cameron McEachern: I've always been the kind of person who would hate to do the same thing day after day, and who always needs a creative project to keep me occupied. I fell into working in theater because there is always a new and exciting project to work on, and once the show opens you move onto the next exciting thing.

And I fell into my current job at Wicked Amusements because it was full time!

[Laughter]

EDGE: In the making of these puppets, what are you finding to be the main challenges?

Cameron McEachern: I think the biggest challenge with these particular puppets is we're doing the show in a three-quarter thrust theater, so these puppets are seen from three sides, as opposed to just straight on, so it's much more difficult to hide how things work. With the first puppet, for example, the leaves wilt on cue, and it's a challenge to hide how that's done from the audience; or, [with the larger puppets] how people get eaten and then the actors get off stage after they're "devoured."

EDGE: Did the process of creating the killer plant involve much dialogue with the Janie E. Howland, the scenic designer?

Cameron McEachern: It was a collaboration with everyone on the team, really, in figuring out how these plants are going to move. Probably the biggest challenge was figuring out where the plants are going to go [when not in use], because the largest plant is enormous, and space is very limited in the Lyric theater. The puppets also need to be switched out as they "grow" - It was creative designing on Janie's part as to where the plants will be stored and how we get them on and off.

EDGE: I saw the essay you wrote for Lyric Stage about using a more natural color palette for your version of Audrey II. Otherwise, you're working off the original designs by Martin P. Robinson. But have you found other ways to put your own stamp on the puppets or otherwise incorporate your own ideas?

Cameron McEachern: I think so, because those blueprints [for the original puppet designs] are not super helpful, to be quite honest. They went into a lot of detail about how to build the small plants, but for the larger plant there's basically just a couple drawings and it says, basically, "Good luck. Make out of foam or something." That's what took a lot of design work on my end as to how to actually build them.

EDGE: You're making puppets for the different stages of this killer plant's growth. How many puppets in total is that?

Cameron McEachern: There are four puppets in total — two small hand puppets and one sort of medium, body-sized puppet, and then one enormous puppet.

EDGE: Have you also made backups in case of accidents that might damage or destroy a puppet?

Cameron McEachern: There are no backups, so knock on wood nothing that gets broken! I don't believe that they will, because the actors have been trained on how to properly use them, and they're made to take a beating.

EDGE: What are they made of? I saw some photos of the puppets as they were being constructed but I couldn't tell what materials went into them... balsa wood? Foam? Fiberglass?

Cameron McEachern: The smallest puppet is paper-mâché that's been upholstered and covered in fabric; the second small puppet is Styrofoam; the third, medium-sized puppet is a combination of foam and a PVC frame; and the largest puppet is completely fabricated out of L200 foam - the same stuff you might find inside a gym mat. It's impact-resistant and lightweight, but very strong. And then that has a PVC armature that allows the operator to lift it up and move it around.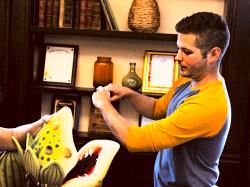 EDGE: As you mentioned earlier, the immensely talented Rachel Bertone is the director of this production. Has she had quite a lot of input into your design work, or did Rachel pretty much let you do what you wanted?

Cameron McEachern: I would say both. We had meetings early on about the design work and the puppets, so I was very aware of what she wanted from the get-go. At the same time, Rachel and I have a working relationship where we have a lot of trust in each other's work, so a lot of the time I just ran with the project. Hopefully, I delivered!

EDGE: Did you use some computer work in the process of designing these puppets? Or did you rely more on sketching with paper and pencil... or was it mostly work that you visualized in your head?

Cameron McEachern: I did a couple of sketches, but it was mostly in my head. I knew what I wanted to do from the beginning. I did a ton of research, looking up other plants and puppets that have been used in the past, and I sort of picked and chose from things I liked and didn't like — I sort of worked off that. I did to a ton of physical testing - painting, dyeing, ordering a ton of fabric swatches ... I think I went through making test leaves with four different fabrics before I found the perfect one!

EDGE: When you say the actors have been trained in how to use the puppets, do you mean they are kind of delicate, or can they hold up to some enthusiastic use?

Cameron McEachern: They've definitely been built to take a beating because of the nature of the show. Actors will be jumping into the mouth and getting chomped on.

EDGE: I'm envisioning a romper room with the cast being like kids with their stuffed animal toys. Is that what it's like?

Cameron McEachern: I wouldn't say that.

[Laughter]

Cameron McEachern: Everything is well choreographed, and it's written to be done in specific ways to work with the puppets. [For example], one of the characters ends up climbing into the plant, looking for money that is allegedly hidden in there, and then it chomps down on him. So, the show is written in a way that makes sense of people going into these plants.

EDGE: "Little Shop of Horrors" has been a horror-comedy by Roger Corman in 1960; then there was the stage musical in 1982; then there was a movie musical based on the stage play in 1986... and the stage musical is still begin produced regularly, as we see now. What's the enduring appeal?

Cameron McEachern: I think it's because it's so much fun, really. It's a little bit silly, and it's got great music. I think it's a popular show because even though the story is so dark, it's really enjoyable to watch.

EDGE: What else have you got coming up for theatrical work?

Cameron McEachern: Right after "Little Shop," I'll be designing "The Rocky Horror Show" for Moonbox Productions. We're doing a pop-up full-scale production in Harvard Square, which is very exciting!

EDGE: You also work with Wicked Amusements, a company that designs escape rooms and "interactive amusements." I've never done that myself, so I don't know what that means...What does that mean?

Cameron McEachern: Believe it or not, I've never actually done one either. An escape room is essentially a game where you go in and find clues and solve problems and puzzles in order to "escape". My job is to design and create the scenic elements. we've done medieval castles, nuclear reactors, prisons, Egyptian tombs... we focus on immersive scenic elements to make it as exciting and as possible.

EDGE: What other theatrical applications does that line of work have? For instance, I recall the A.R.T.'s production of "Sleep No More," which was an amazing immersive experience. Have you worked on anything quite like that?

Cameron McEachern: I haven't, but I would absolutely love to!



"Little Shop of Horrors" runs at the Lyric Stage Company of Boston from August 30 — October 6. For tickets and more information, please to https://www.lyricstage.com/productions/little-shop/
Kilian Melloy serves as EDGE Media Network's Assistant Arts Editor. He also reviews theater for WBUR. His professional memberships include the National Lesbian & Gay Journalists Association, the Boston Online Film Critics Association, The Gay and Lesbian Entertainment Critics Association, and the Boston Theater Critics Association's Elliot Norton Awards Committee.
Comments on Facebook