Lizzie Borden, Lizzie Borden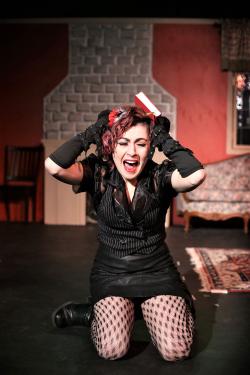 If you are going to write a play about a historical figure like Lizzie Borden, you could stick to the facts of her life by presenting a detailed portrait of this troubled woman. Or you could create your own vision that differs wildly from what we all know. Writer/director Kevin Broccoli takes the latter approach with disappointing results.
Borden was suspected of murdering her father and stepfather with an axe in their Fall River home in 1892. She was later tried and acquitted of the murders.
Epic Theatre Company's "Lizzie Borden, Lizzie Borden" portrays Lizzie (Vivienne Carrette) as a sullen and rebellious woman who flees her home in search of a better life. Lizzie wears black boots, a black skirt, and sports a punk hairstyle. She tells sister Emma (Kimberly Paine) about her desire to get married.
Meanwhile, Lo (Tammy Brown), a former casino worker, moves into the Borden house with hopes of turning it into a bed and breakfast. She then changes her name to Lizzie Borden for reasons never made clear.
The story focuses on the real Lizzie and the pretend Lizzie as they navigate their lives.
"Lizzie Borden, Lizzie Borden" aims to explore the difference between reality versus fiction, along with the way time warps our perceptions of famous personalities. These are fascinating concepts but somehow it just never comes together into a cohesive whole. The narrative features underwritten characters, incomplete and dropped subplots, and self-referential humor which seems out of place.
"Lizzie Borden, Lizzie Borden" goes completely off the rails in the second act with the introduction of the real Lizzie's young daughter (Vanessa Paige), a spoiled brat who speaks in a high-pitched squeal like Karen from "Will & Grace." These scenes play as over the top campy melodrama.
There is also a peculiar man on a train (Kevin Thibault) who has eyes for Lizzie's daughter. It's just too much to take in and only confuses the story more.
Brown is a wonderful actress. I really admired her nuanced performance in "Educating Rita" at 2nd Story Theater. Here, she seems adrift due to the script's lack of focus.
The always excellent Eric Behr ("God of Vengeance") does the best he can as Lizzie's emotionally distant father, who exhibits a casual misogyny I wanted to know more about.
Nancy Winokoor is memorably demented as Lizzie's stepmother. I would have loved to have learned more about the unhappiness she felt in her marriage to Lizzie's father. What traumas has she suffered in her life? We never find out.
Kerri Giorgi ("Wolf Hall") plays the role of Lo's girlfriend Amy. Giorgi is such an appealing and vibrant presence that it's a shame she doesn't have more to do. Brown and Giorgi have an intriguing scene where they discuss their relationship. Unfortunately, this thread is quickly dropped and never picked up again.
"Lizzie Borden, Lizzie Borden" ultimately fails to give any genuine insight into this fascinating woman.
Broccoli has done excellent work before and will no doubt do so again, but this time he missed the mark. I felt Lizzie Borden deserved better.
"Lizzie Borden, Lizzie Borden" runs through March 17 at the James and Gloria Maron Cultural Arts Center, home of the Academy Players located at 180 Button Hole Drive, Providence RI. For tickets, go to epictheatreri.org.
Joe Siegel has written for a number of other GLBT publications, including In newsweekly and Options.
Comments on Facebook