Room to Grow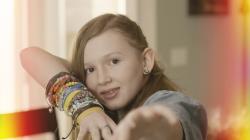 Revry TV's LGBTQ youth-oriented series "Room to Grow," which is now available, focuses on teens who face up to who they really are with dignity and courage - and face prejudice and disappointment along the way, even as they discover the real meaning of friendship and family values.

The first episode focuses on Savannah, a young member of the LDS church who was literally silenced in the middle of her testimony about reconciling her identities as a lesbian and a believer - a church leader switched off her microphone mid-sentence and asked her to "sit down." It's a powerful and shocking moment, and it's followed by Savannah's tearful, direct-to-the-camera reflections on what it felt like to be publicly muzzled and rejected by someone she had known and trusted for much of her young life. Even at the point of filming that scene, Savannah tells the camera, the church leader in question never spoke with her about his treatment of her.

"He hasn't said anything, and I don't know if that's because he thinks I'm gross, or something like that," the tearful teen relates.

Savannah's mother sharing her response to seeing her daughter publicly muzzled and rejected: "We went outside and I let her read the rest of her testimony to the sky."

Unsurprisingly, mother and daughter have both left the church; sadly, but also not surprisingly, Savannah has encountered bigotry and rejection even from her own extended family members. But her experiences have not slowed the teen down; "The church is still vaguely a part of my life," she says, explaining how she believes God has a plan and she's part of it... just as she is.

If Savannah seems familiar, you might recognize her from Imagine Dragons front man, and LGBTQ ally, Dan Reynolds' documentary "Believer," in which Reynolds confronts the pervasive homophobia of his church. And if you feel her pain as though it was her own, that's probably because it is... or was. But you feel her joy, her hope, and her confidence in the same way. This triumphant segment of the new show bodes well for Season 1 and leaves you, with the words "You go!" on your smiling lips.
Kilian Melloy serves as EDGE Media Network's Assistant Arts Editor. He also reviews theater for WBUR. His professional memberships include the National Lesbian & Gay Journalists Association, the Boston Online Film Critics Association, The Gay and Lesbian Entertainment Critics Association, and the Boston Theater Critics Association's Elliot Norton Awards Committee.

This story is part of our special report titled "Wicked Queer: Boston LGBT Film Festival." Want to read more? Here's the full list.
Comments on Facebook