Popular EDM DJ Deadmau5 is coming under fire this week for going off on a tirade while using gay slurs — something for which he's refusing to apologize.
Katy Perry and Zedd are teaming up for a new song.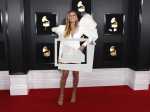 The music industry's best came out in all of their sequins, hats, and accessories for the 61st Annual Grammy Awards. Here are 25 of our favorite looks.
Though at times slightly derivative, this does not detract from the ability to listen to the score, or lessen the pleasantness of this new adaptation of the classic story from Jane Austen.
Sparkly, studded and strutting in designer looks, the Grammys parade of often out-there fashion kicked off in a downpour Sunday, but that didn't dampen spirits as the music industry's best showed off their myriad outfits.
Rap artists and women have felt shunned by the Grammy Awards in recent years. But this year, they both took center stage.
Jennifer Lopez turned the Motown tribute into the J-Lo show.
Ariana Grande won her first Grammy Award on Sunday, but the singer didn't collect it after deciding to skip the ceremony following a public dispute with the show's producer.
Janelle Monae remembers being frustrated at last year's Grammy Awards, where male acts dominated in nominations and the only woman competing for the night's top award, Lorde, didn't get a chance to perform onstage.
At a pre-Grammy brunch honoring Janelle Monae, a few hundred music industry players and performers packed tightly in a room to hear the singer speak passionately about women being the backbone of the music industry and dominating in nominations.