Top Story
In a story that broke on the New York Post on Saturday, someone has deposited piles of feces at two audition spaces over the past two weeks.
1 thru 10 of 13497 Stories
An autopsy says natural causes claimed the life of a North Carolina prosecutor found dead at home last year amid attention over "The Staircase" documentary series.
If you want to be trapped by confusion and boredom, feel free to see the appropriately titled "Captive State."
"Captain Marvel" has continued to dominate the global box office in its second weekend in theaters, leaving newcomers in the dust.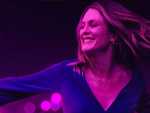 Pundits often complain that middle-aged American actresses don't get starring roles in films. With "Gloria Bell," Chilean director Sebastián Lelio remedies that with a terrific movie starring a luminous Julianne Moore.
Netflix will remove footage of a real fiery train disaster from its hit post-apocalyptic survival film "Bird Box" months after the streaming giant was criticized for exploiting a tragedy.
Months after being fired over old tweets, James Gunn has been rehired as director of "Guardians of the Galaxy Vol. 3."
The cynicism and ultra-violence of Paramount's "Wonder Park" undermines some top-notch animation.
"The Mustang" is a lovingly crafted story of redemption and emotional freedom that is both visually stunning and quietly affecting.
Director/writer Jia Zhangke's "Ash Is Purest White" details, with much aplomb, a woman's life through cultural and social change in 21st-century China.
This science-horror hybrid could have been a more successful chimera in its own right with a shorter run time and a few more drafts of the script; as it is, the movie is an incoherent mess.
1 thru 10 of 13497 Stories