Wicked Queer Film Festival Returns for its 35th Anniversary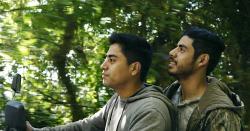 Wicked Queer Film Festival (formerly known as the Boston LGBT Film Festival) is celebrating its 35th anniversary this year, bringing you the latest in queer cinema from across the globe.

Screening at the Museum of Fine Arts, The French Cultural Center, The Brattle Theater, and the The Paramount Theater at Emerson College, our programs will place a special emphasis on queer history, those who make it, and looking forward. As such, we will be revisiting some classics of queer cinema as well as screening the latest in queer cinema.

"As the new Executive Director of Wicked Queer, I am excited to have this platform to remember, to represent and share the past, present and future stories of all our community," said Shawn Cotter, Wicked Queer's Executive Director. "In a world that is evolving so fast, I feel it's important to preserve our history from erasure and to give filmmakers a platform to create a tapestry of experience and storytelling to create future histories."

"Taking over as director of programming for the 35th year has been an amazing experience and I think we are evolving into a festival that is willing to showcase any genre of film, as long as it grabs you as a viewer," said Katie Shannon, Director of Programming. "We not only like to push the envelope with our screenings, but we really seek out stories that aren't being told. We are a festival that prides itself on all the shorts programs that we offer because we love finding emerging talent,"

The 35th edition of our program opens on March 28th at the Brattle Theatre with the lighthearted Dutch romance "Just Friends." The screening is followed by an opening night party at Beat Brew Hall in Harvard Square. On April 7th closes at the Museum of Fine Arts with the award?winning Paraguayan film, The Heiresses (Paraguay's entry for the Best Foreign Film at the 91st Academy Awards).

To access the full calendar of 2019 screenings, visit www.wickedqueer.org .
Comments on Facebook