1 thru 10 of 2679 Stories
Televisa is airing the premiere of its new telenovela, "Juntos, El Corazon Nunca se Equivoca" (Together, the Heart is Never Wrong) on Sunday. The series is set to be the first with a gay couple as the leading characters. Watch the trailers here.
Watch Tan France from "Queer Eye" give John Mulaney a makeover attempting to make him more "fuckable."
Woody Guthrie's children, Arlo and Nora Guthrie, are king and queen of this year's Coney Island Mermaid Parade.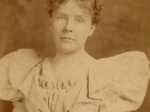 Authors Lizzie Ehrenhalt and Tilly Laskey have published a collection of love letters between former first lady Rose Cleveland and Evangeline Simpson Whipple.
Fifty years after the 1969 Stonewall Inn riots, media treatment of the LGBTQ community has changed and is still changing.
Researchers say a survey of players in the Australian Ice Hockey League shows homophobic language is often used but that an even higher percentage of competitors would make a gay player feel welcome.
Janet Mock, producer, writer and director of "Pose," has made history as the first out trans woman to sign an overall deal with a major studio. The deal will give Netflix exclusive rights to future TV projects and a first-look option on movie projects.
"Queerdom," an exhibition showing at the Imperial Hotel in Erksineville, is an arresting and unsettling archive of queer and trans performances in Sydney.
Music legend Richie Supa speaks candidly of the 60s and the era following the Stonewall Uprising where counterculture often led to addiction.
A holiday that is spreading across the U.S. and beyond, Juneteenth is considered the oldest known celebration commemorating the ending of slavery in the United States.
1 thru 10 of 2679 Stories