PopUps: Taron Egerton Wows Fans with Revealing Elton John Pic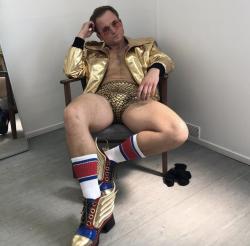 Actor Taron Egerton may be new to Instagram but he sure knows how to keep his fans excited.

The "Kingsman" star took to the social media website Monday to share a pic of himself dressed as Elton John for his upcoming biopic about the iconic singer, "Rocketman." The revealing photo finds Egerton wearing a gold lamé jacket and no shirt underneath. He's also wearing tight lamé briefs covered in fishnets, tube socks and platform boots with wings.

The sexy snap from the 29-year-old actor seems to be a birthday present for John.

"Happy Birthday, @eltonjohn," Egerton captioned the pic. "You are just about the most extraordinary person I've ever met. In honour of your birthday, here's a photo of me (as you) in some hot pants."

David Furnish, John's husband, commented on the post, writing, "Reminds me of my wedding night....." adding four laughing emojis.

The photo earned over 222,000 likes. Check it out below.

This story is part of our special report titled "PopUps." Want to read more? Here's the full list.
Comments on Facebook