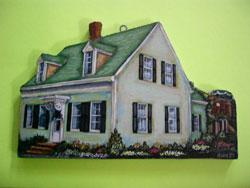 Carl's Guest House
68 Bradford Street
Provincetown Massachusetts

Description
For a relaxed, comfortable, and friendly atmosphere you'll find Carl's
hard to top. Decorated in a clean, simple manner most suited to a beach
vacation home, Carl's is located in central Provincetown within a couple
of minutes walk to all the most popular places. There are 14 guest
rooms, to suit everyone's taste, from basic sleeping rooms with central
private baths, on up to spacious rooms with private baths,
refrigerators, microwaves, air conditioners, etc. All rooms are private,
clean and comfortable. Open to all our guests is a central living room
where you can relax watching your favorite shows on our new
entertainment center and socializing with fellow guests. There's also a
service area with complimentary coffee, tea, fridge and microwave.
Please note, we do not provide alcoholic beverages nor mixers of any
type. Outside, gently landscaped and flowered yards can be seen from
almost every room and most important for sun worshipers is our
sundeck...private enough for au-natural tanning. Come by and say "Hello"
for a complimentary house tour.