Activists blocked the main entrance to the Frankfurt Motor Show on Sunday in a protest against what they call the "climate and environment destroyers" produced by the auto industry.
The U.S. government's road safety agency is investigating complaints that the automatic emergency braking on the Nissan Rogue can turn on for no apparent reason.
Chancellor Angela Merkel says Germany's auto industry and the country as a whole face a "Herculean task" meeting the goals set for combating climate change.
Car shoppers seeking high fuel economy have two particularly intriguing choices this year: The Honda Insight and the Toyota Corolla Hybrid.
The headwinds buffeting the auto industry are making themselves felt at the Frankfurt Motor Show, with companies confronting a slowdown in sales due to global trade uncertainty and pressure from governments to lower emissions of air pollutants.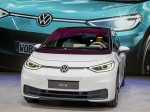 Volkswagen is rolling out what it bills as the breakthrough electric car for the masses, the leading edge of a wave of new battery-powered vehicles about to hit the European auto market.
Nissan Chief Executive Hiroto Saikawa acknowledged Monday that he is working to pass over the helm at the Japanese automaker to the next generation, indicating he was ready to step down.
Thousands of tourists could soon be forced to make reservations and pay to drive the famous crooked Lombard Street in San Francisco.
The Trump administration is moving forward with a proposal to revoke part of California's authority to set its own automobile gas mileage standards, a government official said Thursday.
By the 2025 model year, nearly all new vehicles sold in the U.S. will come with electronic alerts to remind people to not leave children behind in the back seats.