1 thru 10 of 3069 Stories
A sporting goods retailer violated the law by selling an AR-15-style rifle and large capacity magazine to a man who later used them to kill more than two dozen worshippers at a Texas church, federal prosecutors said in a court filing.
Negotiations aimed at reaching a major settlement in the nation's opioid litigation reached an impasse Friday.
With a trial looming, major drug distributors and manufacturers are pressing to settle thousands of claims against them related to the nation's persistent opioid crisis.
Juan Rossi walks between rows of green wheat at his farm in one of Argentina's most fertile agricultural regions, worrying about the future of the farming sector that is the main economic engine of this country.
Britain and the European Union said Thursday that they have struck an outline Brexit deal after days of intense see-saw negotiations — though it must still be formally approved by the bloc and ratified by the European and U.K. Parliaments.
A dozen Democrats seeking the presidency tussled Tuesday night in a debate packed with policy, flubbing some details in the process.
European Union and British negotiators failed to reach a breakthrough in Brexit talks during a frantic all-night session and will continue seeking a compromise on the eve of Thursday's crucial EU summit.
Jury selection is scheduled to begin Wednesday in the first federal trial over the opioids epidemic.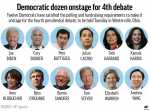 A dozen Democratic presidential candidates will meet on Tuesday for the most crowded presidential debate in modern history. The three front runners face the most intense spotlight.
If Roland Henry had died in a different part of the country, his organs might have been recovered. And lives could have been saved.
1 thru 10 of 3069 Stories